December 28, 2016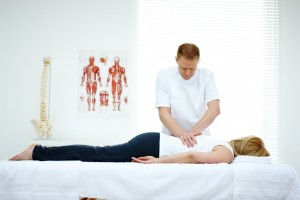 If you're looking to alleviate back or leg pain without having to undergo surgery or take strong medication, then consider spinal decompression. Dr. Z is a Certified Decompression Therapy Practitioner who has helped dozens of patients be able to sit, stand and walk without debilitating pain. Spinal decompression in Richardson helps to encourage healing for bulging, degenerating, or herniated discs. Read on to find out how spinal decompression works and whether or not this method of therapy may be right for you.
What is Spinal Decompression?
Spinal decompression operates under the same principles as spinal traction; both are intended to relieve pain by creating an environment in which healing can naturally occur. In fact, spinal decompression is a type of traction that can either:
Reposition the herniated or bulging disc or
Foster less pressure in the disc in order to allow healing nutrients to enter
How Does Spinal Decompression Work?
For back pain treatment in Richardson, spinal decompression stretches and relaxes your spine at regulated intervals. Under Dr. Z's careful eye, spinal decompression creates negative intradiscal pressure (reduced pressure within the disc).
During your appointment for spinal decompression, you will lie either prone (face down) or supine (face up) on a table, the lower half of which is motorized. A harness is placed around your hip and attached to the lower end of the table. While the upper half of the table remains stationary, the lower half moves back and forth, providing traction and relaxation. You will not feel any pain—only a stretch in your spine—during spinal decompression therapy.
Most of our patients receiving spinal decompression in Richardson require 15 to 30 sessions that last approximately 30 to 45 minutes. These are scheduled over the course of four to six weeks. Dr. Z may also recommend other modalities of therapy along with spinal decompression such as electric stimulation and cold or heat therapy. There may also be some exercises you'll need to perform at home in order to improve your spine's strength and mobility.
Who Is a Good Candidate for Spinal Decompression in Richardson?
Dr. Z often recommends spinal decompression as treatment for a number of conditions including:
Lower back (lumbar) pain
Sciatica
Neck pain
Herniated, bulging or degenerating discs
Of course, there are some conditions that preclude the use of spinal decompression to relieve back and leg pain. Some of these are osteoporosis, spinal stenosis, spinal infection, a spinal tumor, spinal fusion, an artificial disc, pregnancy or any condition for which blood thinner medication is used.
Call Our Office Today
If you are experiencing back or leg pain, contact AlignRight Chiropractic to learn more about spinal decompression in Richardson, TX.
No Comments »
No comments yet.
RSS feed for comments on this post.
Leave a comment