Have You Experienced a Slip & Fall at the Workplace in Dallas?
We Will Take Care of Your Pain, Health & Guide You Through the Stress
Millions of people in the US are injured on the job every year. Work related injuries don't just keep patients from being able to return to work, they also prevent patients from fully engaging in their personal lives. We treat all kinds of workplace injuries from traumatic accidents to damage caused by repetitive motion and overexertion injuries.
If you're experiencing pain or discomfort following a workplace injury, visit AlignRight Injury & Rehab in Richardson, TX right away. By visiting a chiropractor as soon as possible following injury, you prevent further damage and pain. With rehabilitation and chiropractic realignments, we offer patients relief from pain and restored motion. We'll help you get back to work quickly and safely, and our treatments offer long-lasting results.
Slips & Falls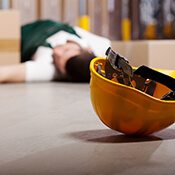 If you slip and fall at work, you may think you are okay. However, a day or two later you could find yourself still sore. Slips and falls are one of the most common types of accidents, and many people don't seek assessment or treatment for a variety of reasons including embarrassment and belief that they aren't badly hurt. We recommend a visit to our office following slips and falls, as the impact may cause more damage to your alignment than you know. A trip to the chiropractor will put your mind and body at ease.
Back and Neck Injuries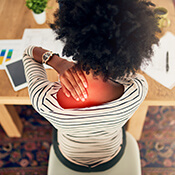 If you work in a field that requires regular heavy lifting or repetitive motion, you can put untold stress and strain on your spine. This is why we frequently treat workplace injuries to the spine, back, and neck. Many people think those who work industrial or construction related jobs are the only ones at risk for these injuries, but without proper ergonomics, office workers are also at risk of developing chronic spinal, back, and neck damage due to repetitive motion and overexertion. We offer rehabilitation, spinal decompression, and chiropractic alignment to relieve pain and restore comfortable movement.
Carpal Tunnel Syndrome and Repetitive Stress Injuries
If you work in a profession where you spend hours in front of computer typing or repeatedly completing the same movements with your hands on an assembly line, you are at an elevated risk carpal tunnel syndrome and other repetitive stress injuries. Carpal tunnel occurs when the median nerve, which runs through the arm to the right three fingers and the thumb controlling motion, is compressed. At AlignRight Injury & Rehab, we offer rehabilitation and pain-relieving chiropractic treatments to make your workspace more ergonomic, preventing future relapse.
Headache After Work Injury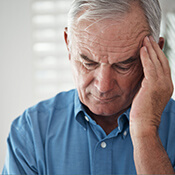 Headaches commonly occur as a result or side effect of work related injuries. They may be caused by a number of factors such as overexertion, muscle stress, head injury, incorrect posture, and more. Some neck injuries can cause a specific type of headache called a cervicogenic headache that is caused by damage or impact on the cervical spine. Chiropractic care can reduce the frequency and severity of headaches caused by dysfunction in the cervical spine, migraines, and other stress and injury related pain. The AlignRight Injury & Rehab team can help you relieve painful headaches.
Other Common Work Injuries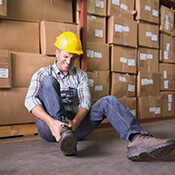 We also see patients with a number of other work related injuries or dysfunctions including:
Sciatica nerve damage and pain
Loss of sensation in the limbs
Tingling, heat, or cold sensation in the limbs
Bursitis, swelling in the joints
Tendinitis, inflammation in tissue connecting muscle and bone
Rotator cuff injury
How AlignRight Injury & Rehab Can Help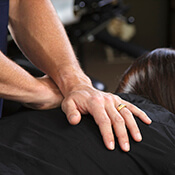 We'll start with a thorough assessment from Dr. Z. Then, our team will work with you to create a personalized chiropractic plan to repair your injury, relieve pain, and improve overall function. Our treatment methods include spinal decompression, rehabilitation, and a variety of chiropractic techniques and methods. Our hope is that you'll quickly go back to work and the rest of your life is free from any associated pain.