Expert Nutritional & Lifestyle Counseling
Over 30 Years' Experience in Athletic Training, Nutrition & Pain Management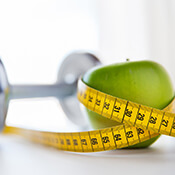 Nutritional counseling is an excellent complimentary treatment to pain management. The overall goal of chiropractic care is to help patients lead healthier lives, and that includes eating a full range of healthy foods to provide all the nutritional supplements your body needs to function completely and painlessly. At AlignRight Injury & Rehab, we provide pain management and nutritional counseling for Dallas, Richardson, and all DFW.
The first step of nutritional counseling is your one on one consultation with Dr. Zinovy Chukhman. He'll start by asking questions about your typical eating habits. Understanding what you're currently eating helps Dr. Z determine what nutrients are plentiful and lacking in the diet and assess your energy levels. The doctor can also answer any questions you may have about dietary supplements and provide recommendations for nutritional products that may be beneficial.
When working with Dr. Z, there are a number of barriers to the success of a new nutritional program. Make sure to let the doctor know about potential concerns you have with any of the following barriers:
Dietary choices or restrictions (vegetarianism, veganism, and kosher)
Food costs
Lack of access to a variety of healthy foods
Inadequate knowledge of food preparation
Nutritional planning is a long-term process that can take years to become effective and show patients results. Dr. Z will work with you to establish ongoing goals that you can work toward over weeks, months, and years.