Spinal Decompression – Dallas, TX
A Non-Surgical Procedure to Relieve Back Pain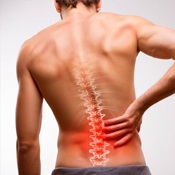 For patients that are suffering from chronic back and neck pain, spinal decompression provides effective relief without the use of drugs or other one-size-fits-all solutions that mask the underlying problem. 70 percent of adults in the United States report suffering from lower back pain at some point in their lives. Ask about spinal decompression if you are part of that population or if you currently suffer from any of the following concerns:
Leg, foot aches, numbness (indicative of sciatica nerve pain)
Back pain or failed back following surgery
Bulging discs or herniated discs
Extrusion and degeneration of discs
Spinal canal stenosis (narrowing)
If any of these concerns apply to you, spinal decompression is effective in treating as many as 80 percent of these cases. Dr. Chukhman is a Certified Decompression Therapy Practitioner that can help locate your pain and offer long-lasting relief. Most patients we see in need of spinal decompression therapy have already spent countless hours and dollars on visits to primary care doctors and emergency rooms, which mostly offer treatments that tend to hide the problem by temporarily removing pain rather than removing the source of discomfort.
What is Spinal Decompression?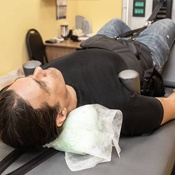 During spinal decompression, a traction table or similar motorized device is used to stretch the spine in an effort to relieve back or leg pain, as well as promote an environment that is ideal for healing bulging, degenerating or herniated discs. In this regard, spinal decompression creates a negative intradiscal pressure in order to retract or reposition herniated or bulging disc material. Also, lower pressure in the disc attracts healing nutrients and other substances into the disc.
What Happens During Spinal Decompression Therapy?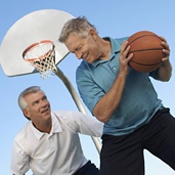 During spinal decompression for back pain treatment in Dallas, the spine is alternately stretched and relaxed.
To treat the low back, or lumbar spine, a patient lays down on the traction table—only the lower half moves. A harness attached to the lower end of the table is placed around your hips. While the upper half of the table remains still, the lower part slides back and forth providing traction and relaxation.
You will feel a stretch in your spine, but spinal decompression is not painful during or after therapy. Other treatment modalities may be used during or after decompression, including electric stimulation and cold or heat therapy. Dr. Chukhman may also recommend drinking more water every day, rest, nutritional supplements and an exercise routine you can do at home to encourage strength and increase range of motion.
As part of our ongoing mission to help patients achieve lives free from pain and discomfort, spinal decompression is an excellent way to heal disc damage, relieve chronic pain, and restore a full range of motion.
If you've been living with chronic back pain or discomfort in Dallas, Richardson, Plano, and the DFW Metroplex, contact Dr. Z at AlignRight Injury & Rehab to find out more how we can relieve chronic pain with spinal decompression therapy.