Chiropractic Care For Dallas Residents
Serving Dallas, Richardson, Carrollton, Mesquite & More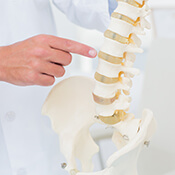 Chiropractic care emphasizes treatment for pain, disorder, or imbalance of the musculoskeletal and nervous systems. In addition to treating pain and discomfort, chiropractic care can also improve general health by improving underlying issues. At AlignRight Injury & Rehab, we offer treatments to improve the full range of function and comfortable movement by alleviating concerns with the musculoskeletal and nervous systems, including:
Back pain
Neck pain
Arm, elbow, wrist, and hand pain
Sciatica nerve pain
Carpal tunnel
Chronic and cerivicogenic headaches and migraines
Leg, hip, knee, ankle, and foot pain
Temporomandibular joint dysfunction (TMJ/TMD)
Auto accidents, workplace injuries, slips and falls, and sports injuries
In most cases, adjustments relieve pain and improve function almost immediately. However, some patients do experience some soreness for the first 12 to 48 hours following treatment. This is similar to aches following exercise. If you experience more significant discomfort, contact us right away.
For concerns like lower back or sciatica nerve pain, chiropractic alignment will likely be your main treatment. Chiropractic care is also a great complement for other medical treatment for conditions that effect the musculoskeletal or nerve systems.
A Wide Range of Techniques & Training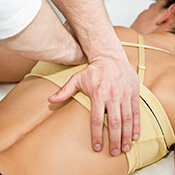 Dr. Z and the AlignRight Injury & Rehab team have years of training and experience to offer chiropractic care utilizing a comprehensive array of methods. Dr. Z has spent countless hours on advanced training and education to offer his patients the most comfortable and effective treatments to help with chronic pain, those who have experienced auto accidents, and who are recovering from workplace injuries. Contact our team schedule a chiropractic consultation today.
Diversified Technique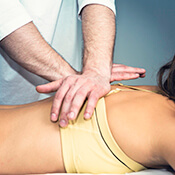 This is the most common chiropractic method. When people talk about "adjustments," the diversified technique is typically what they're referring to. Combining manual manipulation with the use of a table or block, gentle but intense pressure is placed on an area to adjust the spine, joints, and whole body into its ideal position. This allows for complete movement free from pain. Diversified technique can be used for patients who have recently been injured in an auto or workplace accident.
Thompson Technique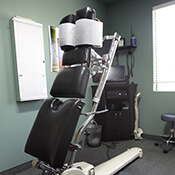 This method of chiropractic care has been in use since the late 1950s. Rather than using just the force of their hands or a lever, the Thompson technique uses the movement of a table with various drop sections to gently correct spinal misalignment. Dr. Z will set the table using a variety of measurements and x-rays. Then, he will gently shift your body and the drop leaf from the table simultaneously, which takes the pressure off your body during the movement.
Flexion-Distraction Technique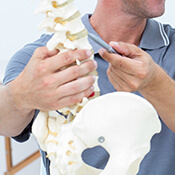 This is a technique that is used to relieve pain and increase the range of spinal movement. Flexion-distraction utilizes a special table that gently flexes the spine and removes pressure. It uses negative pressure that pulls the spine into alignment. It can be used in treating patients recovering from surgery, following car accidents or work place injuries, as well as providing relief for patients with spinal stenosis, arthritis, and sciatica nerve pain.
Gonstead Concept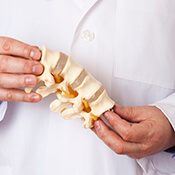 Chiropractic care is centered on the understanding of how spinal alignment effects that nervous system. When the body is out of alignment, this is referred to as sublaxation. Misalignment causes the rest of the body to compensate, putting pressure on joints and muscles which can be painful. In most cases, patients don't even notice this is happening until they experience pain or illness. Gonstead Concept is a treatment philosophy that examines spinal misalignment as the source of pain and seeks to correct sublaxations to restore full function.
Graston Technique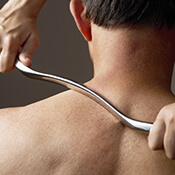 For more than two decades, the Graston Technique has been used to improve patient mobility, flexibility, and comfort. Graston is an instrument-assisted soft tissue mobilization technique. It can be used in the assessment and treatment of a number of issues including:
Scar tissue
Fascial restriction
Range of motion
Tendonitis
Carpal Tunnel
Plantar Fasciitis
The technique uses a variety of instruments to discover and breakdown scar tissue and fascial restrictions relieving pain and restoring the patient's full range of motion.
At AlignRight Injury & Rehab, we offer Dallas, Plano, Richardson, and all North Texas pain management utilizing a wide range of methods and comprehensive treatment planning. Dr. Zinovy Chukhman offers the expertise of 13 plus years of chiropractic experience to improve function and relieve pain. We offer safer and more comfortable treatments for our patients with overall goal of helping you achieve whole-body health and wellbeing for a lifetime.