Car Accident Doctor – Dallas, TX
We'll Help You Rebound After Your Car Accident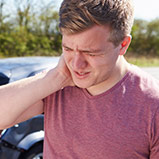 Every year in Dallas County, there are thousands of car accidents. If you've recently experienced a crash, you likely have a few questions like:
Who covers the damage to my vehicle?
How am I going to get to work tomorrow?
What do I do about this pain in my neck and back?
Dr. Zinovy Chukhman, or Dr. Z as he's called by his patients, offers complete chiropractic care for patients with pain or injuries following an auto accident. It is our goal to make this process as easy and pain-free as possible. We relieve pain, restore full range of comfortable body movement, and help with auto insurance claims and legal counsel. Even if you are at fault in the accident, your personal injury coverage should cover the full cost of treatment with our office. Our knowledgeable team has experience working with auto insurance providers as well as processing and filing traditional medical insurance claims.
At AlignRight Injury & Rehab in Richardson, we are easily accessible for patients from Dallas, Plano, and all of the DFW Metroplex. We provide a number of treatment options for patients following car accidents including chiropractic adjustment and rehabilitation in our onsite rehab clinic, spinal decompressions, and a full range of pain relieving chiropractic treatments. Whether you've got an existing chiropractic concern or you've recently been in an auto accident, Dr. Z can diagnose and treat back injuries, whiplash and other neck injuries, shoulder, elbow, hand, wrist, hip, knee, ankle injuries, and relieve pain anywhere on your body.
Car Accidents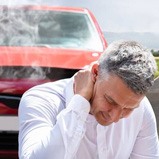 After a car accident, many people assume that if they can walk away then they are okay. And this may be true… for a while. After a few weeks, however, you may start to notice symptoms. Unfortunately, the longer you wait to see a North Dallas chiropractor, the worse those symptoms can become.
One common symptom is whiplash, which can cause pain in your neck, shoulders and spine. Chiropractors treat whiplash patients every day, and you can prevent further injury by scheduling an appointment soon after an accident.
In addition to whiplash, there may be other hidden injuries. For example, ligament and muscle tears are often not picked up by an X-ray. Chiropractic care will help reduce the pain of these tears and other side effects of a car accident.
18-Wheeler Accidents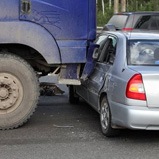 Did you know that approximately one out of every 25 vehicles on the road is a commercial truck? Accidents involving these kinds of trucks, especially 18-wheelers, can be particularly devastating. Estimates are that about 80,000 people are injured in collisions with tractor-trailers. Because of this, many accident victims seek help from an 18-wheeler accident chiropractor.
An accident involving a tractor-trailer truck can be no less than life-altering. Some of the common injuries that result include:
A herniated or bulging disc
Spinal cord damage
Whiplash
Truck Accidents
Obviously, pick-up trucks are not nearly as large as 18-wheelers, but they can still pack a huge amount of force in an accident. Your back and neck often take the brunt of that force when you are involved in a truck-related accident.
Addressing the pain in these areas as soon as possible is very important. Waiting might lead to more stress or strain, which will likely slow the healing process. You might even reinjure your neck or back, and that will likely set back healing, as well.
Motorcycle Accidents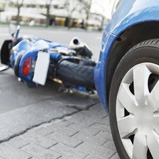 It probably goes without saying, but motorcycle accidents are different than car accidents, because riders are exposed during a collision. There isn't a car frame, heavy metal doors or thick windshield to protect you from injury. In short, if something hits your motorcycle, it is going to hit you, too.
In this case, the risk and severity of injury greatly increases even if the accident is relatively minor. In fact, even if you're not in a motorcycle accident (and we hope you never are!), riding can take a toll on your body, causing spinal misalignment or soft tissue damage. A North Dallas chiropractor will create a treatment plan to help you recover after an accident or maintain a strong and healthy body for comfortable riding.
Working with Personal Injury Attorneys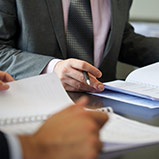 We know how stressful dealing with personal injury insurance claims can be, especially if you need to obtain legal counsel to collect payment for your claim. Dr. Z and the AlignRight Injury & Rehab team have years of experience working with auto accident and personal injury attorneys in Dallas. We will partner with your attorney to ensure all the proper documentation is provided, so you'll have no problems collecting payment from the insurance company. Dr. Z is able to clearly show the connection between auto accidents and injuries, so there's no question that treatment was necessary following your accident.
Because we're familiar with the legal claims process, we'll make your attorney's work simpler. As a courtesy to our patients, we're more than happy to accept a Letter of Protection (LOP) from your attorney in lieu of payment at the time of service. An LOP is an agreement that once your attorney recovers compensation, we will receive payment for your medical bills.