We'll Help You Rebound After Your Car Accident
From Pain Management to Helping with stress from auto accidents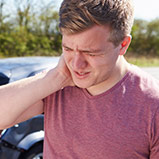 Every year in Dallas County, there are thousands of car accidents. If you've recently experienced a crash, you likely have a few questions like:
Who covers the damage to my vehicle?
How am I going to get to work tomorrow?
What do I do about this pain in my neck and back?
Dr. Zinovy Chukhman, or Dr. Z as he's called by his patients, offers complete chiropractic care for patients with pain or injuries following an auto accident. It is our goal to make this process as easy and pain-free as possible. We relieve pain, restore full range of comfortable body movement, and help with auto insurance claims and legal counsel. Even if you are at fault in the accident, your personal injury coverage should cover the full cost of treatment with our office. Our knowledgeable team has experience working with auto insurance providers as well as processing and filing traditional medical insurance claims.
At AlignRight Injury & Rehab in Richardson, we are easily accessible for patients from Dallas, Plano, and all of the DFW Metroplex. We provide a number of treatment options for patients following car accidents including chiropractic adjustment, physical therapy and rehabilitation in our onsite rehab clinic, spinal decompressions, and a full range of pain relieving chiropractic treatments. Whether you've got an existing chiropractic concern or you've recently been in an auto accident, Dr. Z can diagnose and treat back injuries, whiplash and other neck injuries, shoulder, elbow, hand, wrist, hip, knee, ankle injuries, and relieve pain anywhere on your body.
Working with Personal Injury Attorneys
We know how stressful dealing with personal injury insurance claims can be, especially if you need to obtain legal counsel to collect payment for your claim. Dr. Z and the AlignRight Injury & Rehab team have years of experience working with auto accident and personal injury attorneys in Dallas. We will partner with your attorney to ensure all the proper documentation is provided, so you'll have no problems collecting payment from the insurance company. Dr. Z is able to clearly show the connection between auto accidents and injuries, so there's no question that treatment was necessary following your accident.
Because we're familiar with the legal claims process, we'll make your attorney's work simpler. As a courtesy to our patients, we're more than happy to accept a Letter of Protection (LOP) from your attorney in lieu of payment at the time of service. An LOP is an agreement that once your attorney recovers compensation, we will receive payment for your medical bills.