Over 30 Years of Experience in Sports Medicine & Fitness Injury
Get the Care You Need & Get Back to Doing What You Love
Athletes' bodies undergo enormous amounts of strain and trauma. Whether you're engaging in a high-impact sport like football or hockey, or something less impact-based like swimming and cycling—you are constantly at risk for damage to your joints, spine, and whole body. Dr. Zinovy Chukhman of AlignRight Injury & Rehab has more than thirty years of experience working with amateur and professional athletes. Whether you're experiencing discomfort following a sports related injury or you're suffering from chronic pain after years of training and competing, contact our team to find out how chiropractic can help you improve your athletic performance.
NBCE Physical Rehabilitation Certified Facility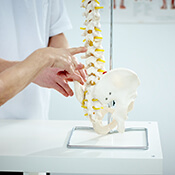 We have a fully equipped rehab clinic onsite. That means your entire treatment process from initial chiropractic adjustments through ongoing rehabilitation can be completed in our convenient Richardson chiropractic office. Our physical rehabilitation clinic is certified by the National Board of Chiropractic Examiners (NCBE) and meets all of the highest care standards.
Learn More About rehabilitation
Corrective Exercises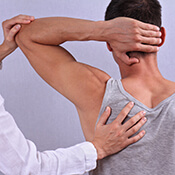 As part of our NCBE certified physical rehabilitation clinic, we offer comprehensive chiropractic treatment for Dallas patients, including corrective exercises. We create a corrective exercise plan by using gentle, effective stretching techniques that cater to your individual needs. Corrective exercises are an essential part of making a complete recovery following sports related strain or trauma. They strengthen, rebuild, and realign the different parts of the body allowing them to move effortlessly and comfortably.
The purpose of corrective exercises is to undo unconscious compensations and repetitive stresses that occur during daily activity. For many athletes, especially those who have been injured numerous times, the body begins to stress specific muscles, joints, or tendons to take pressure off damaged areas. Unfortunately, this compensation creates pain in different areas over time. Corrective exercises re-teach the body how to move properly, reducing strain and restoring comfortable motion.
Dr. Z and the AlignRight Injury & Rehab team carefully evaluate each patient to determine where they are imbalanced, finding areas of weakness, and exploring limitations. We then create a customized, corrective plan. Once patients learn the exercises here, then they can complete them in the comfort of their own homes later.
The goal of corrective exercises is to:
Improve range of motion and comfort during movement
Improve power and raise level of athletic performance
Improve stability when in motion (dynamic) and while stationary (static)
Improve strength
Improve weakness and imbalance
Improve posture
Re-pattern the range of movement
Reduce risk for further injury
rehabilitation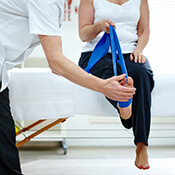 rehabilitation is the main form of a treatment to reduce pain and restore range of motion impeded by several concerns, including: auto accidents, workplace injuries, slips and falls, sports related injuries, chronic pain, arthritis, rehabilitation following sprains and fractures, cerebral palsy, and head injuries.
Whatever the cause of your pain or discomfort, at AlignRight Injury & Rehab, we offer patients form Dallas, Richardson, Plano, and all surrounding communities comfortable, effective rehabilitation. The purpose of rehabilitation is to improve patients' mobility, comfort and fluidity of movement, enhance function, and provide a better quality of life. That all starts with a careful assessment and diagnosis from Dr. Z. Once we understand the source and site of the concern, we'll create a personalized treatment plan, and provide education on how to stay healthy and prevent future illness or injuries.
Some of the physicaltherapies we provide include:
Exercise programs that improve strength, flexibility, and mobility
Traction
Massage therapy
Therapies to reduce joint pain and stiffness
Accelerated healing and improve movement therapies using electric stimulation and ultrasound
Treatments to help patients with breathing difficulties and sleep apnea keep their airways clear
Wound care and skin treatments
Pelvic floor and incontinence management
Function and tolerance testing and training for improvement
Occupational planning to return patients to work safely and comfortably
Use of supportive and assistive devices and equipment
Planning changes to living and working environments that promote full function and mobility