August 25, 2023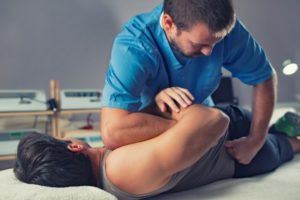 In the immediate aftermath of a car accident, you have a lot to do. You need to call the insurance companies to start claims, you need to call the police to report the accident, you need to arrange for a rental car or a friend to pick you up, and you have to worry about repairs to your vehicle. There's a lot on your mind during this time, but you can't forget seeking chiropractic care.
Is it really the right time to go to the chiropractor? Absolutely! This time may be a little hectic, but now is when you should make time for this visit, which begs the question: when should you go to the chiropractor? Keep reading to learn under which circumstances these visits are essential.
You Are in Pain.
Pain is your body's way of communicating to you that something has gone wrong. Whether you have a slipped or bulging disc, or you've slept in a weird position, severe or chronic pain lets you know that you need help. Sometimes, pain steadily goes away over time, but visiting a chiropractor can help speed the healing process and relieve your pain sooner. By restoring your body to healthy alignment, your chiropractor can take pressure off nerves, alleviating your discomfort.
You've Had a Car Accident.
Even if you don't have broken bones from a car accident, your neck or back may have been injured. In fact, whiplash—your head being jolted backward and forward—is the most common injury from a car accident. Sometimes, neck stiffness and pain don't manifest until days afterward, but you can get ahead of these symptoms and start treating your body, potentially shortening the healing process and turning the dial down on your pain.
You've Had a Workplace Injury.
Like auto accidents, workplace injuries may not always become evident until a few days later. If you experience an accident at work, it's best to deal with the problem as soon as possible, rather than wait for your neck or back pain to kick in.
You Want to Be Active.
When you exercise, one of the main goals is to strengthen muscles, which can help you avoid pain in the future, but if you've been mostly sedentary, your body may find it difficult to adjust to a more active lifestyle. Meeting with a chiropractor can help you stay limber and ready for a more rigorous workout routine and reduce your chances of hurting yourself.
You Sit at a Desk for Work.
In many professions, working at a desk for hours at a time is required. Not only does this make your body more sedentary, but it also means you can adopt bad posture, which can place pressure on certain nerves and joints. Chiropractic care can take away some of this chronic pain and also teach you how to sit in the healthiest way possible.
Regardless of your situation, your chiropractor can be a valuable resource to keep your body in proper alignment. As a result, you can have less nerve pain and enjoy more experiences in life.
About the Author
At AlignRight Injury and Rehab, Dr. Zinovy Chukhman, or Dr. Z, has helped patients overcome pain for many years. Trained and skilled in many treatment protocols, he is one of few chiropractors to be fully certified by the National Board of Chiropractic Examiners in rehabilitation. If you need a chiropractor who can help you recover, contact our office near Dallas by calling 972-907-2800 or visiting our website.
Comments Off

on 5 Occasions When You Need to See a Chiropractor
No Comments
No comments yet.
RSS feed for comments on this post.
Sorry, the comment form is closed at this time.