May 22, 2023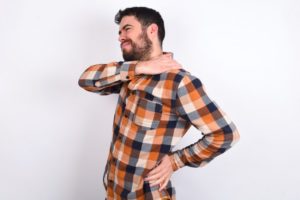 When you see your primary physician, you tell them about back pain that you've experienced more frequently lately. However, when you reach a certain age, your doctor doesn't seem nearly as concerned about the issue. As you get older, you expect to have more aches, but should you just accept your back pain as "normal" or seek chiropractic help? How can you tell whether back pain has actually taken over your life? Look out for these telltale signs.
You Decline Participating in Certain Activities
Whether it's dancing or playing with your kids or something else, when you have back pain, you tend to sit on the sidelines of life for fear of making the situation worse. Although you may be sparing yourself additional agony, you're also missing out on making priceless, special memories!
Needless to say, if you are opting out of activities you want to do because of your back pain, it's interfering with your quality of life. Fortunately, your chiropractor can address back pain, and help you know how to stand, walk, and sit so your back doesn't hurt as badly, which will enable you to participate in life's important moments.
You Take Pain Medicine Frequently
Every now and then, taking pain medication isn't a bad thing. We all get occasional aches, pains, or headaches, but if you take pills throughout the day every day for your back pain, the problem is clearly something more serious.
Instead of taking medication that simply masks the pain, you can actively stop it at its source with the help of a chiropractor. Regular visits can help you maintain healthy posture, correct alignment issues, and relieve pain.
You Skip Exercising Often
Every few days or so, your body needs to rest from exercise; however, if you avoid exercise on a regular basis because your back hurts, it has an even greater impact on your health. During these skipped days, not only are you not getting the aerobic benefits, but you are also not building the muscle strength that could help you overcome your back pain.
When you work with a chiropractor, they can teach you how to sit, stand, and move with healthy posture as well as exercises and stretches to strengthen your core and other muscles to prevent future re-injury. Without back pain, you can resume a healthy lifestyle with plenty of exercise.
If you face these situations, back pain is making your life more difficult than it needs to be. It also can deprive you of living fully, so don't wait to contact your chiropractor and start treatment!
About the Author
At AlignRight Injury & Rehab, Dr. Zinovy Chukhman helps patients overcome pain in many forms. Certified in all four levels with the National Board of Chiropractic Examiners, he is skilled with several techniques, including Gonstead, Thompson, and Diversified. If you want to schedule an appointment with Dr. Z, you can contact his office near Dallas online or by calling 972-907-2800.
Comments Off

on 3 Signs Back Pain Has Taken Over Your Life
No Comments
No comments yet.
RSS feed for comments on this post.
Sorry, the comment form is closed at this time.