April 25, 2023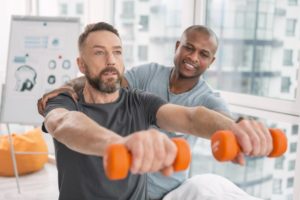 When you tried to lift that heavy box, you felt your back go out instantly. You've just injured yourself! The first things on your mind are relieving your excruciating pain and how you're going to be able to move without aggravating your injury. After all, who has time to heal from an injury?
The time after getting hurt is important to focus on getting better and dealing with your injury properly. If you want to have a smoother, better recovery, you need to start rehabilitation with a trusted chiropractor from the start. Why? Here are three good reasons!
Reason #1: Healing and Rehabilitation Take Time.
Although many people think you simply need to rest when you've suffered an injury, that is simply one part of the healing process. The healing process requires time and effort, not just passive rest. In addition, just like you can't cram for an important test in one day and expect to do well, you can't recover from an injury in just one session of rehabilitation.
With each session, you may be able to push yourself a little more, adding slightly more weight or repetitions, but you should see progress toward wellness over time.
Reason #2: Rehabilitation Teaches You Proper Posture and Technique.
The way you hold your head, back, legs, or arms can either help or hurt your recovery. In fact, in some cases, poor posture is one of the reasons the injury happened in the first place! Rehabilitation is an opportunity for you to learn from a highly trained professional how your body should be positioned to keep it balanced.
In addition, you can learn exercises and stretches to do at home to retrain your body to use proper posture. In essence, you are helping your body "remember" how it should be aligned! By extension you can learn how to properly lift or do other actions to you don't hurt yourself later on.
Reason #3: Strengthening Your Body Prevents Injuries in the Future.
Rest is certainly important, particularly immediately following an injury, but rehabilitation and strengthening your body afterward is just as, if not more, essential if you want to avoid reinjuring yourself. In fact, studies have found that inactivity increases the chances of future reinjury and prolongs the healing process.
Recovering from any kind of injury isn't easy, but as you prioritize rehabilitation and work with a chiropractor, you can facilitate and even accelerate the process. It is worth taking the time to heal properly so you can return to whatever "normal" is for you.
About the Author
As a board-certified chiropractor, Dr. Zinovy Chukhman, or Dr. Z as he prefers to be called, has training and skills that many others in the Dallas area do not have. He is proficient in many treatment protocols and treatments, including flexion-distraction, Gonstead, Thompson, and Graston techniques. If you would like to schedule an appointment with Dr. Z, you can contact AlignRight Injury & Rehab online or call the office at 972-907-2800.
Comments Off

on Why You Should Do Rehabilitation After an Injury
No Comments
No comments yet.
RSS feed for comments on this post.
Sorry, the comment form is closed at this time.