March 24, 2023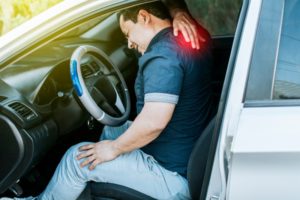 One second, traffic is flowing along just fine. The next, the car in front of you slams on their brakes, giving you mere fractions of a second to respond. Although you do your best to avoid it, you crash into it, and so does the car behind you. While you don't seem to have broken any bones, you know you're not perfectly okay. Like the others involved in your accident, you have back pain, but understanding how and where your back may be injured can help you know what next steps to take in order to heal.
Whiplash or Upper Back Injury
One of the most common injuries experienced during a car accident, especially a "fender bender" or rear-end wreck, is whiplash. This happens when the head is jerked forward or backward suddenly, and the upper back and neck instinctively try to stabilize it, often resulting in overcompensation. As a result, these regions can be extremely sore for weeks after an auto accident.
Disc Injury
Your spine maintains a delicate balance from day to day. To protect the spinal nerve, each bone or vertebrae must be kept separate and cushioned by little pads called discs. The placement of these pieces of cartilage are essential. If they get out of place or herniate (i.e., bulge), they compress the spinal nerve, making movement excruciatingly painful. Other symptoms also include tingling or numbness in extremities, depending on where the injury is located.
Sprained or Strained Muscles
The muscles in your body are not only responsible for your movement but also for stabilizing and holding your body in place. This is especially true of your core and back muscles. Even if you are athletically built or in shape, a car accident can stretch these muscles to their limit or even beyond. Most often, back muscles are particularly vulnerable to sprains and strains because of their role in your basic posture.
Thoracic or Lumbar Spine Injuries
Although the upper back is the more frequently injured area of the spine during an auto accident, the lumbar, or lower back, as well as the thoracic, or rib-cage area of the spine, are also vulnerable to injury. When these areas become affected, it can impair your ability to use your arms and legs or lead to a tingling feeling or numbness.
Unfortunately, all these types of injury regularly occur after a car accident, but the good news is that a chiropractor can guide your back into its proper alignment again. Using the body's own structure, this professional applies spinal adjustments and other therapies to encourage it to heal without having to resort to more invasive measures like surgery.
It's worth noting that even if you don't initially feel pain following a car accident, your injuries could make themselves known hours or days afterward, which is why starting the treatment process soon with a chiropractor is recommended, regardless of whether you have symptoms immediately. Also, depending on how severe the condition is, it could take several treatments to completely resolve the issue.
Ultimately, your back pain can be overcome with the help of your trusted chiropractor, so don't put up with back pain—get started on the road to recovery from your car accident today!
About the Author
Dr. Zinovy Chukhman, or Dr. Z, sees patients who have experienced all kinds of spinal and joint injuries. Board-certified with the National Board of Chiropractic Examiners, he is especially experienced in treating neuromusculoskeletal problems. With training in various methods, such as Gonstead and flexion-distraction, he can adapt therapy to each patient's needs. To schedule an appointment with Dr. Z in the Dallas area, you may contact AlignRight Rehab & Injury online or call us at 972-907-2800.
Comments Off

on Car Accident? Beware of These 4 Types of Back Injuries
No Comments
No comments yet.
RSS feed for comments on this post.
Sorry, the comment form is closed at this time.