February 27, 2023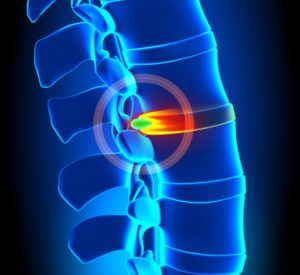 It happened so fast. The other car hit yours from behind, causing your head to whip backward and then forward. As your friend gives you a ride home from your accident, they strongly recommend going to a chiropractor afterward—even if you aren't feeling a lot of pain—just in case you get a herniated disc in your spine. What is a herniated disc, and how can whiplash give you one? How can visiting with a chiropractor help you recover more quickly? Keep reading to learn more!
What Are Discs?
In between your vertebrae bones, there are small pads called discs, consisting of gelatinous cartilage. These provide a cushion both for the bones and for the spinal nerve.
What Is a Herniated Disc?
Normally, the discs along your spine must stay within their allotted area. If they are slipped out of alignment or spill over, they push pressure onto the sensitive nerves.
As a result, when you have a herniated disc, which is also sometimes called a slipped or bulging disc, it can give you:
Extreme back or neck pain or pain in your arms
Numbness or weakness in your arms
Stiffness in your neck
The pain can have flare ups or times when it hurts more significantly based on your activity. For instance, you may trigger back pain from your herniated disc if you try to lift something heavy.
What Is Whiplash?
Whiplash happens when the neck or back muscles are forced beyond their normal range of motion, usually as a result of the head being suddenly jolted forward or backward.
How Can Whiplash Cause a Herniated Disc?
During a car collision, or another type of accident, when your neck and back muscles are extended, often spinal alignment is thrown off-kilter. A disc that typically stays in position can become damaged and infringe on the nerve, causing the painful and unpleasant symptoms of a herniated disc.
Many nerves in your extremities are connected to the spinal nerve, which is why you may experience pain or numbness in your arms or throughout your back even if your head and neck were jolted in the accident.
How Is a Herniated Disc Treated?
In most cases, a herniated disc requires time to heal. In addition to rest and application of ice or heat packs, you can help your body recover by taking anti-inflammatory medications provided by your physician. However, visiting a chiropractor can speed up the healing process by "reminding" your spine of proper alignment. Through adjustments and physical therapy, your chiropractor can get everything back into place, including the disc causing your pain.
Your friend is right. You need to start seeing a chiropractor soon after an accident because your road to recovery may take time, and it could be a few days before you notice symptoms. If you begin now, you can reduce your pain and get you back to normal activities as quickly as possible.
About the Author
At AlignRight Injury & Rehab, Dr. Zinovy Chukhman (Dr. Z) actively takes patients who have been through automobile and other kinds of accidents. Whiplash is just one of the many injuries he can treat through chiropractic adjustments and therapies. He has more than 20 years of experience with rehabilitation, and he is proficient in many treatment protocols. To schedule an appointment with Dr. Z, you may contact our office at 972-907-2800 or online.
Comments Off

on Whiplash? You May Have a Herniated Disc
No Comments
No comments yet.
RSS feed for comments on this post.
Sorry, the comment form is closed at this time.