August 25, 2022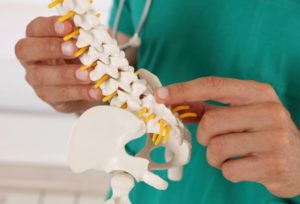 As you exchange insurance information with the other driver, you think you're perfectly fine after the car accident. No one was seriously hurt, but later on once you get home, pain in your back becomes unbearable.
Understanding the most common types of back injuries can help you know what to do and how serious they are. Continue reading to learn more about just four types and who you should turn to for help in these situations!
Vertebrae Fractures
The bones in your back may be small, but it is still possible for them to break. While some may shatter, others may have a clean fracture, but in either case, when a vertebrae becomes fractured, it can require a lot of rest, medical attention, chiropractic treatment, and rehabilitation to get back to normal function again.
Herniated Discs
In between your vertebrae in the spine, you have discs or little collagen cushions that protect the bones and the spinal nerve from touching. However, in a car accident, discs can become ruptured, bulging, or slipped out of place, putting pressure on many nerves. As a result, you can have severe pain, numbness, or tingling throughout your body.
Back Sprain or Strain
The muscles, ligaments, and other soft tissues can stretch, but if they are pulled too far in the car accident, they can cause problems. A sprain occurs when damage is done to ligaments connecting joints to bones as well as bones to other bones. A strain, on the other hand, is tendons connecting bone and muscles is stretched too thin. Regardless of which, healing time can be significantly reduced when you work with a chiropractor.
Degenerative Spinal Disorders
Even if you take care of the initial issue after a car accident, more permanent damage may flare up later on. As you get older, former injuries can resurface or lead to new problems like sciatica, spinal osteoarthritis, spinal stenosis, or degenerative scoliosis. To prevent or mitigate future injuries, it may be worthwhile to receive treatment soon afterward, even if you think you feel okay following a car accident.
Ultimately, a good rule of thumb is that if you experience a car accident, you should see a chiropractor, especially if you have back discomfort. But even if you aren't in a lot of back pain, your chiropractor can help you recover more quickly from the event and enable you to return to normal functions. Don't put off feeling better—address your back injury now!
About the Author
Although Dr. Zinovy Chukhman has an extensive background in sports rehabilitation, he also specializes in treating car accident injuries. Since graduating from the prestigious Parker College of Chiropractic in Dallas, he has become certified by the National Board of Chiropractic Examiners. To schedule an appointment with Dr. Z, you may reach out to AlignRight Injury & Rehab online or by calling 972-907-2800.
Comments Off

on 4 Common Types of Back Injuries After a Car Accident
No Comments
No comments yet.
RSS feed for comments on this post.
Sorry, the comment form is closed at this time.