July 26, 2022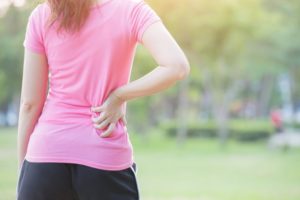 You were in a rush to get to work. You thought you had time to stop, but then—crash—you ran into another car. As you get out of your vehicle, you feel a sharp pain in your back. You can't afford to miss many days at work because of your pain. How long will your back pain last after a car accident?
The answer may vary from person to person, depending on the type of wreck, the severity of the injury, and how quickly you treat the problem. Keep reading to learn how to deal with back pain following a car accident.
After a Few Days of the Accident
For some people in accidents, the injury instantly hurts. Whether it's a herniated disc or another soft tissue problem, inflammation can set in quickly, making it difficult to do anything. However, usually this immediate discomfort calms down within a few days, especially if you use cold therapy on the affected area and take over-the-counter pain medication.
On the other hand, you may not start to feel back pain until a couple of days following the car accident because the full extent of the injury may not become immediately apparent. In this situation, you may have to wait a few days after that point until the inflammation subsides.
Long-Term Back Pain
Depending on the kind of injury you experience in the car accident, you may suffer from back pain long afterward. In fact, until you resolve the root cause of the problem, it may continue to bother you for years! In addition, some injuries, if left untreated, could lead to permanent damage.
How to Heal as Efficiently as Possible
Although some home therapy will be needed to start the healing process, many people find that healing takes much longer when they try to deal with the situation alone. After you've experienced an injury from a wreck, you could benefit from having a professional realignment.
Whether you feel pain at first or not, you should seek treatment from your chiropractor soon after your car accident. In fact, the sooner you address the injury, the sooner you can feel relief from back pain. Your chiropractor can not only make sure your spine is properly aligned, but they can also help with tight soft tissues and nerve pain in your back, enabling you to return to normal activities sooner.
Recovering from a car accident can take a while, but if you respond correctly to your injury, you can overcome it more efficiently than if you do nothing at all. So don't wait—get help from your chiropractor now!
About the Author
At AlignRight Injury & Rehab, Dr. Zinovy Chukhman, who prefers to be called Dr. Z, has years of advanced training and expertise under his belt. In fact, he is certified with the National Board of Chiropractic Examiners in all four parts of their rehabilitation certification. If you have been in a car accident, you can contact AlignRight Injury & Rehab near Dallas by calling the office at 972-907-2800 or clicking here.
Comments Off

on Tick Tock: How Long Back Pain Lasts After a Car Accident
No Comments
No comments yet.
RSS feed for comments on this post.
Sorry, the comment form is closed at this time.