November 23, 2021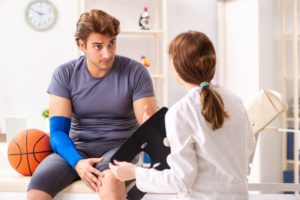 Every week, you get together with some of your friends and play a pick-up game of basketball. You may not be as young as you used to be, but you still want to make the game competitive. However, in one play, you land awkwardly on your leg, tweaking your knee. After seeing a doctor, you learn that your knee has suffered ligament damage, but there's not much more they can do for you other than prescribe ice therapy, rest, over-the-counter pain relievers, and a knee brace.
Have you thought about visiting a chiropractor? While many associate chiropractic care with back or neck pain, there are plenty of sports injuries that a chiropractor can address. Keep reading to learn more about what a chiropractor can do to keep you healthy and recover from sports injuries.
What Does a Chiropractor Do?
Primarily, a chiropractor is an expert in spinal and joint alignment. Although this directly impacts the back and neck, a chiropractor is also trained to help with injuries throughout the body including the shoulders, knees, elbows, and even the wrists and ankles. By restoring proper alignment, your chiropractor can facilitate the healing process and reduce inflammation and pain, and get you on the path toward recovery.
What Sports Injuries Can a Chiropractor Treat?
In addition to injuries to the back, such as a slipped disc, chiropractors can treat these types of sports injuries:
Shin splints
Joint dislocations
Sprains, which occurs when ligaments are stretched or torn
Strains, which means muscle tissue or tendons are torn
"Runner's knee," tendinitis, or other damage to cartilage or ligaments
Achilles tendon injuries
Repetitive motion injuries like carpal tunnel or "tennis elbow"
A chiropractor can even help patients who have experienced acute bone fractures. Needless to say, if you are active in sports, you may want to have a chiropractor's number on hand, just in case you get injured so that you can start to feel better sooner.
Can a Chiropractor Prevent Sports Injuries?
Sometimes, despite your best efforts to stay safe and healthy, you can still get injured. However, you don't have to be injured to benefit from your chiropractic visits. Preventive adjustments can help your body avoid injury in the first place. Plus, your chiropractor can share stretches and exercises that can strengthen muscle groups to support healthy alignment. As a result, you'll be better equipped to stop injury or address it right away.
In the end, a chiropractor may not have a magic wand to make your sports injury disappear, but they can offer therapies that help your body heal as efficiently as possible. With the right care, you may be able to return to the court and play more basketball!
About the Author
Dr. Zinovy Chukhman, or Dr. Z, is a proud graduate of the Parker College of Chiropractic and has received advanced training on many treatment techniques, including Gonstead, Thompson, and flexion-distraction. He is committed to helping patients find relief from injuries, whether they receive them in a car accident or playing sports. If you would like to schedule an appointment with Dr. Z, you can contact AlignRight Injury & Rehab in Dallas.
Comments Off

on Have a Sports Injury? Your Chiropractor Can Help You Heal
No Comments
No comments yet.
RSS feed for comments on this post.
Sorry, the comment form is closed at this time.