September 28, 2021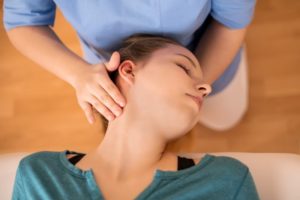 At the time, you didn't think it was a big deal. Your little rear-ending car accident left you without a scratch, but then a few days later, you have severe pain in your neck. You may have several questions on your mind at this point: where did your neck pain come from? What can you do about it? Who should you turn to for help? Your chiropractor in Dallas can answer these questions for you and more! Read on to learn all about neck pain after a car accident and how you can get better as soon as possible.
Why Does Your Neck Hurt After a Car Accident?
One of the most common injuries following a car collision is called whiplash, which entails your head jolting forward or backward suddenly and then going the other direction. This sudden motion damages tissues in the neck, causing pain. This injury can occur in serious head-on collisions as well as a simple rear-end accident, regardless of the amount of damage done to the car. Even if you think you've been in a "little" crash, you may have neck pain afterward.
How Is Neck Pain Treated After a Car Accident?
If you've experienced whiplash, your upper spine may be out of alignment, the discs may have become herniated, or other problems may have surfaced in the injury. As a result, your chiropractor can approach your care with a couple of different treatments. The first is a spinal adjustment or decompression. By applying the right amount of force to the appropriate area, your chiropractor can ease your discs and vertebrae back into proper alignment. Massage therapy is another treatment that focuses on helping the soft tissues heal after a whiplash injury.
When Should a Neck Injury Be Treated?
Many people feel fine immediately following an accident with no neck pain at all, only to find a few hours or even days later that they aren't completely all right. If you've experienced a car accident where you may have suffered whiplash, you should visit a chiropractor right away. Early treatment may reduce the neck pain you feel and the time it takes for you to recover from your injuries.
Ultimately, you don't have to suffer from unnecessary neck pain from your car accident. By understanding more about how the event can affect you and turning to the right source for help, you can recover more quickly and with less discomfort.
About the Author
Dr. Zinovy Chukhman, or Dr. Z, has about 20 years of experience as a chiropractor. Certified with the National Board of Chiropractic Examiners, he is highly trained and able to treat using various techniques, including flexion-distraction, which is commonly used on whiplash patients. Have you been in a car accident and need help with neck pain? You can set up an appointment with Dr. Z at Dallas Chiropractor through his website or by calling 972-907-2800.
Comments Off

on Neck Pain After a Car Accident: Answers to Your Questions
No Comments
No comments yet.
RSS feed for comments on this post.
Sorry, the comment form is closed at this time.