July 26, 2021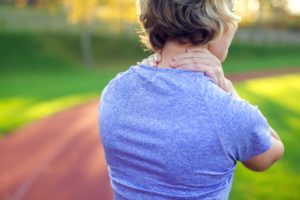 You feel it right between your shoulders. That pain in your upper back just isn't going away, and you wonder where did this come from? Although mild muscle strain is often the cause of pain between the shoulders, a more serious condition may be to blame. It's important to recognize when you need to see a professional so that you get the treatment you need. In this post, you'll learn about the various causes of upper back pain between the shoulders and how you can get relief.
Muscle Strain
By far, muscle strain is the most common culprit behind upper back pain. Whether you're lifting something heavy, using poor posture, or participating in activities that involve twisting, the muscles in your back can work overtime to stabilize your spine. Mild cases may be addressed at home through stretching, exercise, and hot and cold therapy; however, more severe cases need to be treated with a chiropractor.
Shoulder Trauma
Did you know that an injury in your shoulder can affect your upper back? Some patients who experience a rotator cuff tear feel significant pain between their shoulders. In this case, you definitely need to see a doctor and work with a physiotherapist to regain mobility and function in the shoulder.
Herniated Disc
Upper back pain may be the result of a bulging or herniated disc, which refers to the cushion between vertebrae bulging out of position and putting pressure on a nerve in the spine. Although most of the time, this occurs in the lower back, it certainly can happen up higher as well. Other symptoms include numbness or tingling in the neck.
Serious Medical Conditions
Unfortunately, upper back pain can also be a sign of something more serious going on. At first, it may be difficult to spot, but the upper back pain is usually accompanied by other symptoms that can help you determine whether your situation requires more immediate medical attention.
Heart Attack
A heart attack typically starts out slowly, sometimes with upper back pain. You may also experience chest pain, shortness of breath, nausea or lightheadedness.
Pneumonia or Chest Infection
Those who suffer from pneumonia or a chest infection can feel upper back pain, or pain throughout the torso, when they breathe. These conditions usually come with fever, coughing up green or yellow mucus, and other indicative symptoms.
Lung Cancer
Although not a major symptom, upper back pain could be indicative of lung cancer if you have these other symptoms: wheezing, worsening coughing or coughing up blood, fatigue, and unexplained weight loss.
In the end, if you aren't sure about the cause of your upper back pain, it's always best to have it checked out by a professional. Your chiropractor can help you if it is a spinal or joint issue or recommend that you see a medical doctor for further testing.
About the Author
Dr. Zinovy Chukhman, or Dr. Z, has been a practicing chiropractor for about two decades now. Since earning his doctorate in chiropractic, he has become certified by the National Board of Chiropractic Examiners. He is also highly experienced in treating neuromusculoskeletal conditions. If you are having upper back pain, you can contact Dr. Z at AlignRight Injury & Rehab in Dallas on his website or by calling 972-907-2800.
Comments Off

on Causes of Upper Back Pain: How to Know If It's Serious
No Comments
No comments yet.
RSS feed for comments on this post.
Sorry, the comment form is closed at this time.