June 25, 2021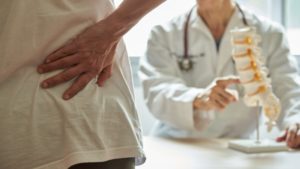 You figured it would go away on its own after a while. It didn't seem that bad at first. You didn't want to make a fuss. In your mind, there are plenty of reasons that you haven't contacted a chiropractor for your lower back pain, and you may be questioning when is the right time to see one. You don't have to guess anymore! Here are four clear signs that it's time to schedule that first visit.
You've Had Any Kind of Injury Involving Your Back.
Regardless of the circumstances that led to your lower back pain, a chiropractor can properly identify the issue and from that diagnosis provide a clear path toward recovery. Trying to go this path alone only prolongs your injury and runs the risk of further damaging to the nerves in and around your spine. If you get injured, it's best to simply contact a chiropractor to start treatment immediately so that you can feel your best as soon as possible.
Other Treatments Don't Work.
Unfortunately, many times medical treatment is a process of trial and error. You may go through several rounds of various treatments to find the one that works best for you. For some patients, applying heat or ice to an injured or painful area provides some relief, but it may not address the underlying issue. In addition, even though massage therapy may seem relaxing, but it too may not be the right treatment to get you back to feeling normal again.
In summary, if what you've tried so far isn't making a significant difference in your lower back pain, it may be time to seek the help of a chiropractor to realign your spine and joints.
The Source of the Pain Originates in the Hard Tissues.
Sometimes lower back pain is related to muscle strain or other soft tissue injuries. However, often the problem actually lies with the spine or joints. In this scenario, massage therapy will have little impact on healing the injury. That's why it's important to visit a chiropractor so that they can make alignment adjustments to the hard tissues, which then in turn helps release the tension in the muscles. By combining chiropractic care with massage therapy, your treatment can be more effective and get you back to normal much more efficiently.
You Are in Great Pain.
No one should have to suffer with lower back pain, especially if it impairs your ability to function. If daily tasks, like bending over to pick something up, become painful or more difficult, you need to see a chiropractor right away. They will not likely prescribe pain medication, but they can address the cause behind your pain, whether it's a bulging disc, a pinched sciatic nerve, or other lower back issues.
Whatever is holding you back from seeking chiropractic care pales in comparison to the positive outcomes of treatment. You can get rid of lower back pain, be more active, and live more fully! And the first step is contacting your chiropractor.
About the Author
Unlike many other chiropractors, Dr. Z is certified by the National Board of Chiropractic Examiners. With decades of experience, he uses many treatment methods to relieve pain, including Thompson, Gonstead, and Graston techniques. If you have lower back pain, you can schedule an appointment with Dr. Z at AlignRight Injury & Rehab in the Dallas area through his website or by calling the office at 972-907-2800.
Comments Off

on 4 Clear Signs You Should See a Chiropractor for Lower Back Pain
No Comments
No comments yet.
RSS feed for comments on this post.
Sorry, the comment form is closed at this time.