May 24, 2021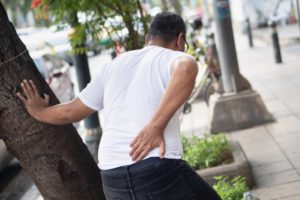 You didn't see it coming. All of a sudden, you were hit by another car. Although you haven't suffered from broken bones or bad bleeding, you now are dealing with back pain as a result of the accident. X-rays don't necessarily show anything wrong, but your lower back pain can be debilitating. What could be wrong with your back? And more importantly, how can this pain be treated?
Although your injury would need to be evaluated by an experienced expert for a proper diagnosis, the problem could be a lumbar strain. Read on to learn more about this type of injury and what you can do to feel better.
What Is a Lumbar Strain?
A lumbar strain is a particular kind of injury to your lower back. In this situation, the tendons and muscles in this area have been traumatically twisted, pulled, or torn. When a lumbar strain injury has occurred, it is often accompanied by inflammation, severe pain, and muscle spasms. Range of motion can also be limited, making daily functions or certain tasks difficult or impossible to do.
What Causes a Lumbar Injury?
This type of injury is common in car accidents, particularly when a car is rear-ended by another. However, a lumbar strain can occur whenever there's direct trauma to the lower back, whether it's an impact or not. Without treatment, acute cases can last for several days or weeks and eventually subside, but more severe cases won't go away on their own and must be addressed with a chiropractic professional.
How Is a Lumbar Strain Treated?
Unfortunately, treating lumbar strain injuries may require frequent therapy for a significant amount of time—weeks or even months. In addition to pain medication and massage therapy, physiotherapy and chiropractic adjustments can help the tissues heal more quickly. Depending on the severity of the injury and your profession, you may not be capable of working during this timeframe.
When Should I See a Chiropractor?
If you think you've suffered a lumbar strain, whether acute or severe, the best decision is to seek help as soon as possible after a car accident. Not only can this early treatment reduce your pain but also help your body heal more efficiently, getting you back to normal activities sooner.
Your car accident may have been traumatic in more ways than one, but through physiotherapy and chiropractic treatment, you can reduce its impact on your well-being in the long run. You can overcome pain and give your body the best chances of healing.
About the Author
At AlignRight Injury & Rehab, Dr. Zinovy Chukhman, or Dr. Z, has an extensive background in treating injuries. In his continuing education, he has earned certification with the national Board of Chiropractic Examiners. He is also proficient with many techniques including Thompson, flexion-distraction, and Gonstead. If you have been in a car accident and have lower back pain, you can schedule an appointment with Dr. Z at AlignRight Injury & Rehab through our website or by calling 972-907-2800.
Comments Off

on What You Need to Know about Lumbar Strains
No Comments
No comments yet.
RSS feed for comments on this post.
Sorry, the comment form is closed at this time.