March 22, 2021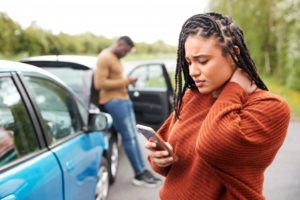 It came out of nowhere. One second, you're sitting at a red light waiting for it to change; the next, your car jolts forward unexpectedly. You've been rear-ended. At first, you're more concerned about the damage done to your car because you seem fine otherwise. But did you know that car accident injuries can show up much later on?
In stressful situations, your body produces adrenaline to help you power through the situation, but it can only last so long. When it finally subsides and the dust clears, sometimes days later, you may realize that you're more hurt than you thought. In this post, you'll learn about the delayed types of pain that can result from a car accident and what to do about them.
Vertebrae or Spinal Misalignment
Normally, the spine consists of a very delicate balance between the soft and hard tissues, but an accident can shift vertebrae or discs out of place in an instant, putting pressure on spinal nerves. Misalignment along the spine can lead to severe back and neck pain and numbness and tingling in the extremities. In fact, the pain may be so intense that it limits your mobility. Fortunately, your Dallas chiropractor can provide the rehabilitation your spine needs to resume natural, healthy alignment following an accident. This treatment also takes the pressure off those nerves, giving you relief from your back or neck pain.
Whiplash
In a car accident, your head can be jostled around, causing an injury commonly referred to as whiplash. This occurs when your head is suddenly snapped forward and then backward (or vice versa) putting significant strain on the neck. As a result, one of the most common symptoms of whiplash is neck pain, but whiplash may also manifest after the fact as neck stiffness or soreness, swelling, and limited range of motion. Your chiropractor can provide relief to your neck muscles, re-establish the proper alignment, and help you regain flexibility in the soft tissues around the neck and upper back.
Concussion
Those who suffer a concussion don't always show signs of it right away. Symptoms may surface later on as changes in behavior, headaches, neck pain, dizziness or blurred vision, vomiting, and non-dilating pupils. While minor concussions may pass and heal without medical intervention, a more serious concussion needs to be monitored and treated by a physician immediately to make sure that the brain has not suffered more extensive damage.
In the end, you should keep track of your symptoms after you have a car accident. Even if you don't have life-threatening injuries at the moment, problems may come up later that are a direct result from the incident, and you need to seek treatment for them right away.
About the Author
Dr. Zinovy Chukhman has been treating injuries and involved in rehabilitation for more than 20 years. He is certified by the National Board of Chiropractic Examiners and is proficient in many techniques, including Diversified, Gonstead, and Thompson. Although he treats patients in need of all chiropractic support, he considered rehabilitation from injury or accidents one of his specialties. Have you experienced a car accident? You can contact Dr. Chukhman at AlignRight Injury & Rehab through the website or by calling 972-907-2800.
Comments Off

on 3 Delayed Injuries to Watch Out For After a Car Accident
No Comments
No comments yet.
RSS feed for comments on this post.
Sorry, the comment form is closed at this time.