February 26, 2021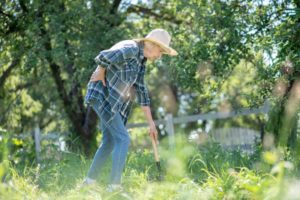 You love spending time in your garden and seeing it flourish. You've worked hard and long to make it look this good, but lately, you've noticed that your hands are uncomfortably tingly and numb, making this pastime more difficult for you. You also experience bouts of discomfort in your neck or back. What may seem like simple back pain could actually be a condition called spinal stenosis. Are you curious to learn more about this? Instead of sifting through the endless Google results, you can get basic information about it here.
What Is Spinal Stenosis?
Spinal stenosis occurs when the spaces in the column become more narrow. When this happens, bone and other hard tissues put pressure on the nerve roots in the spine. This narrowing of the spine can take place either in the lower back (lumbar) or neck (cervical) areas and tend to be degenerative. Even though this condition typically affects people who are above 50 years old, it can occur in younger patients as a result of trauma.
What Are the Symptoms of Spinal Stenosis?
For some, spinal stenosis comes with few or even no symptoms at first. Others experience tingling, weakness, or numbness in their arms or legs. Still in other cases, patients can have severe pain in their lower back or neck. It's important to keep in mind that the symptoms of spinal stenosis generally get worse over time, especially if osteoporosis, herniated discs, and other problems are also involved.
What Causes Spinal Stenosis?
Although there are those who are born with a narrow spine, most of the time this condition is a result of one of the following:
Spinal Injuries
In a car accident or other traumatic event, vertebrae can become dislocated or fractured, damaging the spinal canal.
Herniated Discs
Your vertebrae are cushioned by soft disks, but this tissue can spill over and come into contact with the spinal cord or nerve roots.
Overgrowth of Bone
Especially if you have osteoporosis or a bone disease, the bones around the spine can form spurs, which grow into the spinal canal, with normal wear and tear.
How Is Spinal Stenosis Treated?
For extreme cases, surgery may be necessary to correct spinal stenosis. However, for most patients, chiropractic adjustments along with physical therapy can help relieve pain and restore function. Needless to say, it's worth visiting a chiropractor in Dallas to feel better.
Armed with this information, you are ready to talk to someone about your symptoms. As a result, you can get the treatment you need to address spinal stenosis and make sure it doesn't hold you back. That way, you can keep gardening and doing what you love for as long as possible.
About the Author
Since graduating from the Parker College of Chiropractic, Dr. Z has continued to hone his clinical skills through advanced training. In fact, he is certified by the National Board of Chiropractic Examiners and has become proficient in various techniques, including diversified, Gonstead, Thompson, and Graston. If you think you have spinal stenosis and would like to set an appointment with Dr. Z, you can contact AlignRight Injury & Rehab by calling 972-907-2800 or clicking here.
Comments Off

on Back to Basics: What You Need to Know about Spinal Stenosis
No Comments
No comments yet.
RSS feed for comments on this post.
Sorry, the comment form is closed at this time.