January 26, 2021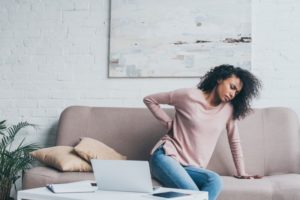 Did you know that one in six workers, either part-time or full-time, worked from home before 2020? Obviously that number has drastically risen as a result of the pandemic, which means that millions of people face the new challenge of working in an environment that may not have the same ergonomic accommodations that their employers provide in the office. If you fit into this category, you can struggle with neck or back pain in Dallas, carpal tunnel syndrome, and other musculoskeletal problems. Here are some ways you can adapt to a work-from-home environment without causing undue stress on your body.
Elevate Your Screen to Eye Level
If you spend a lot of your work day looking down at your phone or at a laptop screen, your neck and upper back can feel sore. As much as possible, try to keep your neck straight when you look at papers, your computer screen, and your phone. This means that you may need to make some modifications to your home setup, such as lifting up your monitor using books or a box. Avoid working while sitting or lying on your bed, because it becomes much easier to assume unhealthy postures.
Have Your Screen Perpendicular to Windows
At first glance, it may seem like a good idea to either face or face away from the open window as you work. While natural lighting can be beneficial, each of these positions can have serious drawbacks for your eyestrain. With your back to the window, outside light can reflect off your screen, making it difficult to see with the glare. If you face the window directly, your eyes have to constantly adjust from artificial lighting of the screen to the natural, bright light outside. That's why it's best to sit with the window to either side of your screen.
Get Up and Walk Around
When you're in the groove or on a roll, you can forget to take little breaks now and then while you're working. However, your body wasn't meant to be stationary for several hours at a time. You need to make sure you're standing up, stretching, and taking little walks frequently.
You may realize that sitting sedentary all day is not good for your health in general, but that doesn't mean that standing in one position for long periods of time is significantly better. If you have a standing desk, you still need to walk around and move your body about every 30 minutes to keep your circulatory system and muscles happy throughout the day.
Visit a Chiropractor
No matter your working situation, you can get help from a highly trained professional, who can help undo any damage done to your neck, back, joints, or spine. These appointments also provide you the opportunity to learn stretches or exercises you can do at home to maintain good posture.
Whether you work in the office or from home moving forward, your chiropractor in Dallas can help you perform at your best and avoid unnecessary discomfort as much as possible.
About the Author
Dr. Z has more than 20 years of experience treating chiropractic issues. With many techniques and methods at his disposal, he is certified by the National Board of Chiropractic Examiners, a prestigious distinction for chiropractors. He specializes in treating patients who have suffered injuries or accidents, including those experienced in office or home settings. If you have neck or back pain as a result from bad posture or repetitive motions, you can schedule an appointment with Dr. Z at AlignRight Injury & Rehab by clicking here.
Comments Off

on 4 Ways to Stop Back Pain While Working from Home
No Comments
No comments yet.
RSS feed for comments on this post.
Sorry, the comment form is closed at this time.