November 28, 2020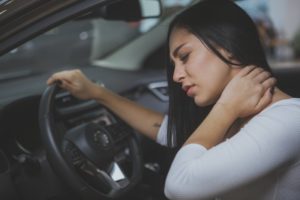 Checking that everyone is safe, making arrangements for your rental car, and giving your statement to both insurance companies and the police—there is so much to do in the aftermath of a car accident. But even if you think you feel fine or you're too busy, a visit to your chiropractor should be toward the top of your to-do list.
Whether or not you feel immediate pain in your neck or back, this visit can be essential for your long-term well-being. In this blog post, you'll learn about what you gain when you work with a chiropractor for your back pain treatment in Dallas.
Treatment for Hidden, Delayed Injuries
If you suffer from a broken bone as a result of your accident, you'll feel it right away. However, other injuries, like whiplash or micro-tears in ligaments, may not manifest themselves until weeks afterward. The longer you wait to seek treatment, the longer you're likely to deal with stiffness and pain. On the other hand, if you turn to a chiropractor in Dallas right away, you can work ahead of the symptoms and keep your discomfort to a minimum.
Unfortunately, whiplash typically involves a soft-tissue injury that doesn't appear on an X-ray. As a result, only a medical professional who is extremely familiar with the nervous system, i.e., a chiropractor, can know where the micro-tears in ligaments and muscles are causing the problem and how to fix the issue.
Inflammation Reduction
When your body is trying to recover from an injury, inflammation gets in the way and prevents nutrients from accessing the area. That's where spinal or chiropractic adjustments come in. These simple procedures acts as a reset button, reducing inflammation-causing chemicals in the area and allowing the healing process to begin.
Drug-Free Treatment
To address your pain following a car accident, some physicians prescribe pain medication with good intentions. However, these medications can lead to crippling addictions and only treat the symptom of pain, not the cause of it. Chiropractic care actually works to heal your body for long-term relief.
In addition to being a drug-free alternative, chiropractic care immediately following an automobile accident is also far less invasive than other treatments you may require down the road. Spinal adjustments may not prevent the need for all surgeries, but they can help some patients regain their range of motion and find relief without needing to undergo more expensive and invasive operations.
Although you may have a lot on your plate after a car accident, make sure you also take the time to care for your body, which has experienced trauma. Early treatment can help you avoid the unpleasant symptoms of whiplash and other common auto injuries and help you get to normal sooner.
About the Author
For more than 20 years, Dr. Z has been practicing chiropractic care in the Dallas area. During his career, he has earned certification with the National Board of Chiropractic Examiners and provides full rehabilitation services at his practice, AlignRight Injury & Rehab. Have you recently experienced an automobile accident? Contact Dr. Z and begin your treatment by calling the practice at 972-907-2800 or visiting their website.
Comments Off

on 3 Benefits of Immediate Chiropractic Care After a Car Wreck
No Comments
No comments yet.
RSS feed for comments on this post.
Sorry, the comment form is closed at this time.