October 29, 2020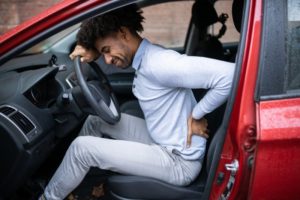 It's been a couple of days since your car accident. Although you felt fine then, you're definitely feeling bad lower back pain now. Since you've been working from home anyway because of the COVID-19 pandemic, you decide to try to treat this problem yourself. But where do you start? How can you make sure you're getting the best lower back pain treatment in Dallas? Read on to learn some tips that can help you resolve your injury and pain in the most efficient way possible.
Get a Little Rest
You may be usually be a busy bee, but in the aftermath of a car accident, your body will need some time to heal. To allow the process to begin, you should take a day or two to rest in bed with minimal work. Keep in mind, however, that being too sedentary following an injury can lead to more stiffness and pain, prolonging the time it takes to become fully healed.
Don't Sit Too Long
At first glance, sitting may seem like a healthy position of rest, but it actually puts more stress on your lower back. In addition, sitting for long periods of time can cut off blood flow to the area, increasing your discomfort. If you must sit, try to stand up, walk around, and stretch about every 20 to 30 minutes to keep circulation going. This will help you heal more quickly.
Try Yoga
If you don't already use yoga as your form of exercise, consider taking it up. Its poses help to strengthen and stretch your muscles including those in your lower back. Also, yoga is generally gentle enough that tension should be kept to a minimum.
Avoid Inflammation-Causing Foods
Did you know that certain foods can promote inflammation in the body? Eating ice cream and other junk while you rest may seem like innocent fun, but that kind of food will not provide the right fuel for optimal healing. Some of the foods you should be eating include plenty of fruits and vegetables, eggs, and a little bit of dark chocolate.
Apply Ice and Heat
When treating a lower back injury, it can be tricky to know whether you should put an ice pack or a heat pad on your back. The truth is that both are beneficial! Ice reduces inflammation in the area and actually numbs the area. Heat increases blood flow, bringing with it nutrients that are necessary for healing.
Bonus Tip: Get Professional Help
Even though you may want to handle the situation all on your own, the best, most efficient way of dealing with lower back pain is to seek treatment from a chiropractor in Dallas. They have the training and skillset in physiotherapy that can help you recover as quickly as possible.
If you've been in an auto accident recently and your back is hurting, just follow these tips, and you'll be able to overcome your injury, return to normal activities, and enjoy a higher quality of life with less pain.
About the Author
Dr. Z has been a practicing chiropractor in Dallas at AlignRight Injury and Rehab for more than 20 years. He is certified by the National Board of Chiropractic Examiners and is well trained in many rehabilitative methods, including Diversified, Thompson, Gonstead, and many others. If you've been in a car or other kind of accident, you can contact Dr. Z at his practice's website or by calling 972-907-2800.
Comments Off

on Tips for Lower Back Paint Treatment After an Accident
No Comments
No comments yet.
RSS feed for comments on this post.
Sorry, the comment form is closed at this time.