September 29, 2020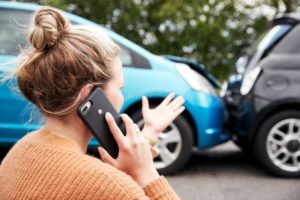 You can't believe what just happened. The car behind you slammed into yours. A million thoughts rush through your mind at once. You have to call the police to report the accident, your insurance company to give your statement, and your loved ones to let them know you're okay. But there's one resource you should also call right after an car accident—your chiropractor in Dallas. Why is this an important call to make soon afterward? Read on to learn the answers!
Your Chiropractor Treats Many Kinds of Injuries.
When you think about chiropractic care, you may envision only back adjustments, but did you know that your chiropractor can address so many other problems? Yes, they treat back pain, but they can also help you with neck pain and stiffness, headaches, and numbness or pain in your legs or arms. In a car accident any of your joints may have slipped out of alignment. By making sure the spine and other joints are properly aligned, your chiropractor can ensure your total wellness.
You May Be Injured Even If You Don't Feel Pain.
Not all injuries manifest themselves right after a car accident. In fact, you may not feel pain until days or even a week or two later. By that point, you're already lost valuable time on treatment. As a result, you could take longer to heal and recover from your injuries than you would have if you started treatment right away. Similarly, you could suffer unnecessarily.
You Can Have Clear Proof for Your Personal Injury Claim.
Sometimes, it can tricky to connect your injuries to the accident in an insurance claim. If you wait a long period of time to see a chiropractor, it can be even more difficult to prove that your injuries are a result of the car accident than if you seek professional help immediately afterward. You don't need to add to your stress and discomfort by making the process more troublesome for yourself.
Chiropractic Care Is Non-Invasive and Drug Free.
In some cases, more drastic measures are necessary to address certain injuries; however, most of the time, you can avoid surgery or the need to take habit-forming opioids altogether. With non-invasive chiropractic treatment, your body can heal itself naturally, reduce pain and inflammation without the use of drugs, and have a shorter recovery.
Once you've taken care of the other necessary calls you need to make when you have a car accident, don't forget to schedule an appointment with your car accident doctor in Dallas so that you can get on the path toward wellness again.
About the Author
Known as Dr. Z, Dr. Zinovy Chukhman has been a chiropractor in the Dallas and Richardson areas for over 20 years at AlignRight Injury & Rehab. He is trained in many treatment methods, including Gonstead, Graston, and Thompson techniques. He is also certified by the National Board of Chiropractic Examiners (NCBE). If you would like to make an appointment with him following a car accident, you may contact him by calling or clicking here.
Comments Off

on Crash! 4 Reasons to Visit a Chiropractor after a Car Accident
No Comments
No comments yet.
RSS feed for comments on this post.
Sorry, the comment form is closed at this time.