April 30, 2020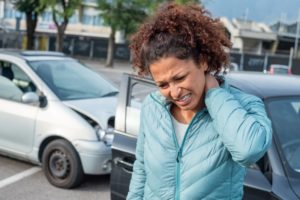 It's been several days since your fender bender accident. In addition to handling your normal, everyday responsibilities, you've spent a lot of time on phone calls with your insurance company and arranging for your rental car while yours is in the shop for repairs. Although you felt fine right after the accident, you've started to have painful headaches and tenderness in your shoulders. Could these just be the result of stress or are they signs of whiplash? Do you need to see a chiropractor in Dallas? Should you wait until you show the signs of whiplash before you make an appointment? Answer these questions and more by reading this post!
Symptoms of Whiplash
Whiplash occurs when your head is suddenly jerked forward and backward, damaging the tendons and ligaments in the neck area. Although neck pain and stiffness are common for whiplash patients, these symptoms aren't the only ways that this injury can manifest itself. Other symptoms include the following:
Headaches that originate at the base of your skull.
Tenderness, pain, or stiffness in your upper back, arms, or shoulders.
Abnormal fatigue.
Dizziness.
Tingling or numbness in your arms.
If you have these symptoms, you should contact your chiropractor right away. Although less common, if you see two or more of the following signs, you may need medical treatment:
Blurred vision
Ringing in your ears
Trouble sleeping
Irritability or depression
Difficulty focusing or remembering things
Treatment of Whiplash
If you think you have whiplash, you can begin at-home therapy by applying a cold pack to the area. This can help reduce swelling as well as numb your discomfort. You may need to repeat this therapy every three or four hours for the first couple of days. Beyond that, you can take over-the-counter pain medication or muscle relaxants. Trigger point massage can also certainly help, but the most efficient, effective way to start the healing process is to contact your chiropractor for an appointment.
Why You Shouldn't Delay Treatment
Did you know that you don't have to wait to seek chiropractic help until you notice symptoms? By that point, you're miserable and the injury has had time to cause damage to the tendons, ligaments, and muscles. If you've been in an accident, you should reach out to your chiropractor right away even if you aren't in pain. It could take weeks or even months for symptoms to show up, but you can work ahead of these symptoms early on.
Although car accidents involve a lot of stressful tasks to deal with, damaging whiplash doesn't have to be one of them. By seeking treatment soon after your accident, you can address the problem, speed up the healing process, and get back to full health while experiencing less pain.
About the Author
Dr. Z has more than 20 years of experience and is certified by the National Board of Chiropractic Examiners. Although he is trained to handle basically all chiropractor care, he specializes in the treatment and recovery of patients who have experienced an accident or injury and knows many different techniques, including Thompson, Diversified, and more. If you have been in an accident, you can contact Dr. Z by calling AlignRight Injury & Rehab or clicking here.
Comments Off

on Post Collision: How to Know When to Visit a Chiropractor
No Comments
No comments yet.
RSS feed for comments on this post.
Sorry, the comment form is closed at this time.