November 10, 2019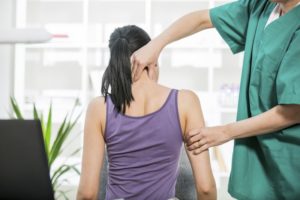 You're driving on the freeway anxious to get home from work, perhaps going a little faster and following the car in front of you a little closer than you should. When this car slams on the brakes, you don't have enough time to react, and you hit it hard from behind. Your initial assessment indicates that, while shaken up, you're okay with no readily apparent injuries. However, there are many injuries that can show up in the days or weeks following that require the attention of an auto accident doctor in Dallas. Read on to learn what these injuries are.
Whiplash
Relative to other parts of your body, the muscles, ligaments, and tendons that are responsible for stabilizing your head are rather vulnerable to injury. In a car accident, your head can be suddenly jerked forward, backward or to the side, straining these tissues. Although it may take time—sometimes months—for neck pain to manifest, it is important to see chiropractic treatment as soon as possible after your accident to avoid serious damage and facilitate healing.
Concussion
An impact delivered to the head or whiplash can cause a concussion, which occurs when the brain is abruptly shaken back and forth. Concussions can range in severity, but even mild ones can have lasting effects, which is why you should seek immediate medical attention if you experience whiplash or a hard bump to the head.
Seat Belt Injury
Although your seat belt is a critical safety feature that can save your life, it can also have negative effects in some instances. Have you ever heard of seat belt syndrome? This refers to the injuries that result from the force from a seat belt during a car accident. In many cases, mild cuts and bruising may appear on the skin's surface, but more serious issues could lurk internally, such as fractures of the lumbar spine or injuries to organs. Your chiropractor can help to correct these issues through dedicated treatment.
Herniated Disc
Just as you can break any other bone during an auto accident, the discs that provide the buffer between your vertebrae can rupture or shift out of place, irritating the nerves and resulting in severe back pain. Your chiropractor specializes in guiding your body back into proper alignment, helping your vertebrae and discs return to normal position.
Knee Pain
In some cases, your knee can strike the dashboard, hurting ligaments or worse. Depending on the severity and type of knee injury, a chiropractor may be to provide the physiotherapy necessary to rehabilitate the knee and facilitate its healing.
In the end, you can reduce the impact that your car accident has on your overall well-being if you seek the right help. Even if you think that you're absolutely fine, there could be alignment problems that can cause pain or damage down the road. Early intervention can facilitate healing and make sure that you experience as little pain as possible.
About AlignRight Injury & Rehab
With years of clinical experience and advanced training, Dr. Zinovy Chukhman, or Dr. Z as he prefers to be called, leads the team at AlignRight Injury & Rehab. He has earned certification with the National Board of Chiropractic Examiners and uses a variety of chiropractic treatment methods in order to meet each individual patient's unique needs. If you have questions about auto accident injuries, you can contact Dr. Z at AlignRight Injury & Rehab by calling (972) 907-2800 or clicking here.
Comments Off

on 5 Common Auto Accident Injuries That Your Chiropractor Can Treat
No Comments
No comments yet.
RSS feed for comments on this post.
Sorry, the comment form is closed at this time.