September 8, 2019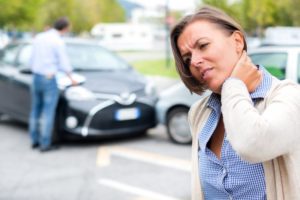 You step out of your crashed car. Your heart is pounding from adrenaline, but you don't feel any immediate pain. You take all the steps you should in this situation, such as calling the police and exchanging insurance information with the other driver, and then you finally return home. The next morning, you wake up with a seriously sore neck. It's common for negative symptoms of car accidents to show up later on and stick around for weeks afterward. But how long will this soreness last in your specific case? Do you need to find a doctor after an auto accident in Dallas? In this blog post, you'll learn about the things that can influence your healing timeline.
The Size and Speed of the Cars Involved
The details of the car accident, especially the size and speed of the cars, matter in determining how long it will take for your soreness to subside. How? In basic physics, we understand that force equals the mass of an object multiplied by its acceleration. Without getting too deep into the science, basically, the larger an object (like a car or truck) or the faster it is traveling, the greater the force of the impact and the higher likelihood of a longer recovery. Your chiropractor should know as much about your accident as possible so that they can properly diagnose and treat your condition.
How Soon You See a Chiropractor
Perhaps you think you can address the problem on your own, but waiting to seek help will only extend the soreness you feel. In contrast, if you go to a chiropractor soon after your accident, you'll be more likely to heal faster and resume proper alignment sooner. So, if you experience a car accident, don't delay treatment.
How Frequently You Visit the Chiropractor
Healing from an auto accident isn't something that happens in just one appointment. It takes consistent and frequent visits to your chiropractor, especially in the beginning. As you heal and require less professional intervention to bring you back into alignment, you may be able to space out your appointments. However, if you routinely skip visits or choose not to follow your chiropractor's advice, you can prolong your discomfort.
In the end, the soreness you feel indicates that something is wrong in your body, and you will continue to feel discomfort until you resolve the problem with the appropriate treatment. During your first appointment, your chiropractor should be able to give you an accurate idea of how long your soreness will likely last once they get an idea of the extent of the damage. Although you can't control all of the factors that play a role in determining your healing timeline, you can turn to a professional who can help you get back to normal as soon as possible.
About the Practice
At AlignRight Injury & Rehab, Dr. Zinovy Chukhman, or Dr. Z, offers advanced treatments in rehabilitation and adjustments to help people who have experienced car accidents and much more. He is certified by the National Board of Chiropractic Examiners and has extensive experience treating neuromusculoskeletal conditions. To schedule an appointment with Dr. Z, you can call (972) 907-2800 or click here.
Comments Off

on 3 Factors That Affect How Long You'll Feel Sore after a Car Accident
No Comments
No comments yet.
RSS feed for comments on this post.
Sorry, the comment form is closed at this time.