August 7, 2019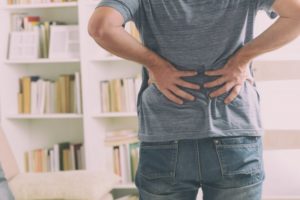 You've just been in a minor car accident. Other than the ache in your back, you walk away unharmed. Although you should seriously consider visiting a chiropractor right away, you really don't want to rush to that advanced treatment just yet. Instead, you decide to try at-home remedies to ease the pain and see if you can manage on your own first. Whether you've been in an accident or you deal with a chronic back problem, there are things you can do to handle back pain in Dallas. Keep reading to learn more!
Get Moving
When you engage in aerobic exercise, your body naturally releases endorphins. This hormone is known to block pain receptors, potentially alleviating the painful sensation in your back. It can be tempting to just sit and take it easy until your back feels better, but some movement can actually help relieve your mild to moderate back pain. Try going on a 30-minute walk or swimming laps at the pool. Not only will these activities keep your heart healthy, but you'll also enjoy the endorphins that help your body feel better and stronger.
Relax Productively
Believe it or not, there are productive ways to relax. In addition to aerobic exercise, massage therapy and conscious meditation have been shown to increase endorphin production, helping you cope with back pain. Consider getting a massage from a professional or using guided meditation to soothe your body and facilitate the healing process.
Strengthen Your Core
Your abdominal muscles have an important impact on your back, specifically your lower spine. Your core supports your back, so when you have a strong core, you can enjoy a strong back. Take about 20 to 30 minutes a day to target your ab muscles to provide extra support for your ailing back.
Get Enough Sleep
Did you know that about two-thirds of those who suffer from back pain have a sleeping disorder? In fact, pain is the leading cause of insomnia. If you are experiencing back pain, you may need to adjust your busy schedule to fit in sufficient rest, because adequate sleep for your mind and body is critical for overcoming back pain. If you struggle to sleep because of your pain, consider seeking professional help.
Use Heat and Ice
Heat pads and ice packs can work wonders on an aching back and speed up the healing process. Cold therapy reduces inflammation and has the same effect as a local anesthetic, slowing down the nerves. On the other hand, heat therapy keeps blood and other nutrients flowing the affected area. Both are very beneficial following a back injury, and keep in mind that you may need to experiment to find the perfect combination for you.
Although you should turn to a car accident doctor in Dallas soon afterward to accelerate your healing, you can practice these home remedies to supplement your treatment or take care of your mild back pain. Also, doing these things even while you're healthy can help you avoid back injuries or pain in the future. Regardless of the reason for your back pain, whether it's chronic or the result of an accident, you and your chiropractor can get you back to normal through proven, effective therapies.
About the Practice
AlignRight Injury & Rehab is owned and operated by Dr. Zinovy Chukhman, or Dr. Z as he prefers. Certified by the National Board of Chiropractic Examiners, he completes many advanced training and continuing education courses every year to stay abreast of innovative adjustment techniques and rehabilitation methods. To schedule an appointment with him, you can call (972) 907-2800 or click here.
Comments Off

on 5 Simple Ways to Relieve Back Pain at Home
No Comments
No comments yet.
RSS feed for comments on this post.
Sorry, the comment form is closed at this time.