July 10, 2019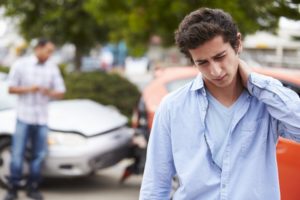 You're sitting in your car after an accident. You do a quick evaluation to check for injuries: nothing seems to be broken, and you don't see blood or feel pain anywhere. Later that day, a friend of yours recommends seeing a chiropractor in Dallas. Do you really need chiropractic care if you aren't hurting? Following a potentially traumatic event like a car accident, it is always a good idea to seek this treatment. Why? Keep reading to learn four reasons that these visits are important.
Pain isn't always immediate.
After a car accident, some injuries are obvious—lacerations, broken bones, and more. Others, however, may not become apparent until later. Days afterward, you can suffer from headaches, soreness in your neck or back, dizziness, and pain. By seeking chiropractor care soon following your accident, you can get treated, or at least start treatment, before these unpleasant symptoms have the chance to set in with full force.
Inflammation can reduce your range of motion.
During an accident, micro-tears can occur in your muscles and ligaments in your neck and back, causing inflammation and pain. When this happens, blood and nutrients that would otherwise help these tears heal find it difficult to access the injured area. As a result, inflammation slows down healing and can reduce your range of motion. Although micro-tears do not show up on X-rays, they can cause your body severe pain. Getting adjusted by your chiropractor can bring your spine back to its proper alignment and help your body release an agent that decreases swelling and pain.
Chiropractic treatment can reduce internal scar tissue.
When you think of scars, you likely envision the ones that show up on your skin. But did you know that your muscles can develop scar tissue as well? A car accident can injure the muscles around your spine, and like scars on your skin, the scars and pain of this injury can remain long after it has healed. A chiropractor can break up this muscular scar tissue, reducing your pain and helping you overcome the injury more quickly.
You can avoid pain medications.
Some doctors prescribe pain medications after a car accident. While these can relieve your symptoms, they can cause a host of other undesirable side effects, including drowsiness, nausea, and dizziness. However, perhaps more important, many of these powerful medications are highly addictive. Plus, they only mask the problem instead of treating the root cause. As an alternative, you can visit a chiropractor for spinal manipulation. This procedure releases a hormone that helps you control pain both in the injured areas and throughout your body.
Ultimately, your chiropractor can help you recover from your accident and get back to feeling whole and healthy again. This all-natural treatment gives your body the extra boost to heal itself more efficiently and effectively all while taking away some of the pain of your injury. If you have experienced a car accident, don't hesitate to visit your chiropractor and get the help you need.
About the Author
At AlignRight Injury & Rehab, Dr. Zinovy Chukhman, or Dr. Z as he is commonly called, can perform all chiropractic procedures and methods, but he is particularly experienced with helping patients recover from accidents or injuries. He is a graduate of the prestigious Park College of Chiropractic and is certified by the National Board of Chiropractic Examiners. To schedule an appointment with Dr. Z, call (972) 907-2800 or click here.
Comments Off

on 4 Reasons to See a Chiropractor in Dallas After a Car Accident
No Comments
No comments yet.
RSS feed for comments on this post.
Sorry, the comment form is closed at this time.