September 15, 2018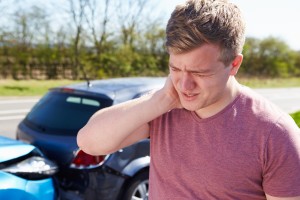 Several different types of injuries can result from an auto accident. One is a pinched nerve, which has the potential to cause serious discomfort. If you need back pain treatment in Dallas because of a pinched nerve, call a chiropractor who can assess your condition and create a treatment plan designed just for you.
What is a Pinched Nerve?
A pinched nerve happens when surrounding tissue, bones, cartilage, muscles and tendons apply too much pressure to a nerve. This pressure may interfere with the nerve's ability to function.
How Can a Pinched Nerve Happen in an Auto Accident?
One of the most common causes of a pinched nerve is whiplash. This type of injury happens when your head and neck are jerked forward, backward or sideways. As a result of whiplash, a nerve may be stretched or pinched.
Nerve damage can also happen if you suffer a laceration—a deep cut— during an auto accident. A laceration can be deep enough to reach the nerve. Also, hitting your head, arms, legs or any other body part on a hard surface in the car may also compress a nerve.
What Are the Symptoms of a Pinched Nerve?
The symptoms of a pinched nerve include:
Pain that is achy, sharp or burning
Tingling or a feeling of pins and needles
Numbness
Weak or painful muscles
Twitching or other uncontrolled muscle movements
Skin sensitivity to hot and cold temperatures
Unfortunately, some people feel symptoms of a pinched nerve more acutely while they are sleeping.
How Can I Treat a Pinched Nerve?
Chiropractic treatment can relieve pressure on the nerve, thereby offering relief from pinched nerve pain. There may not only be local pain from a pinched nerve. One in your neck can travel down your arm, or from the low back it may radiate into the leg. Chiropractors can help relieve these pains by repositioning the bones, relaxing the muscles, and reducing the pressure on nerves.
Other options for personal injury treatment in Dallas after an auto accident include spinal decompression and massage therapy. If you or a loved one has been in an auto accident and now seems to have symptoms of a pinched nerve, contact a chiropractor today.
Meet the Doctor
Dr. Zinovy Chukhman is the chiropractor in Dallas who is trained and experienced in helping people recover from injuries sustained in car accidents. If you need relief, call the office today to schedule an appointment.
Comments Off

on Back Pain Treatment in Dallas for a Pinched Nerve
No Comments
No comments yet.
RSS feed for comments on this post.
Sorry, the comment form is closed at this time.