November 21, 2017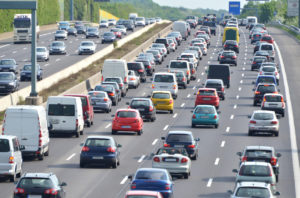 The National Highway Traffic Safety Administration reports that December 23rd and 24th are two of the four deadliest days on American roadways. (The other two are July 3rd and 4th). Everyone is in a hurry to rush home with their packages so the fact that the roads are more dangerous should come as no surprise. With that in mind, your Dallas chiropractor would like to offer a few tips on how you can protect yourself and your family this holiday season.
Don't Drive Drunk
It's been said before, but we'll say it again—don't drive drunk. And driving drunk includes driving buzzed. Sadly, about 40 percent of all fatalities during the holidays are the result of an accident in which at least one of the drivers was over the legal limit.
If you and friends plan to have a few drinks, then designate a driver. If no one will take the responsibility, then call a taxi or use your smartphone to summon a ride with Uber or Lyft. And nowadays most bars offer a free taxi ride home.
Don't Stress Out
The stress of the holiday season often contributes to the rise in auto accidents at this time of year. There's more traffic and everyone is in a hurry and has a lot to do. Consequently, drivers might ignore normal safety precautions, or perhaps you just have your mind on something else. These distractions can lead to an auto accident.
Before you get behind the wheel, take a few deep breaths. Everything will get done—it always does. Now is the time to focus on your driving.
Too Much Traffic
Dallas is one of the largest cities in the United States so there's always plenty of traffic. But during the month of December there are more cars on the road that at any other time of year. Residents are out driving more and there are also out-of-towners coming to visit or to shop. So just expect that traffic will be heavier and give yourself more time to get to where you're going.
Maintain Your Car
The holidays are not the time to skimp on vehicle maintenance. Don't put off servicing your car so you'll have more money to purchase gifts instead. Give yourself and your family the gift of a car that operates well. If you need new tire or brakes, don't delay giving your car necessary safety attention. This may not only help you avoid an auto accident, but can also prevent you from getting stranded on the side of the road.
Meet the Doctor
Dr. Zinovy Chukhman is the auto accident doctor in Dallas who is trained and experienced in helping people recover from injuries sustained in car accidents. If you need relief, call the office today to schedule an appointment. And have a safe and happy holiday season!
Comments Off

on Your Dallas Chiropractor Discusses Holiday Driving
No Comments
No comments yet.
RSS feed for comments on this post.
Sorry, the comment form is closed at this time.