October 23, 2017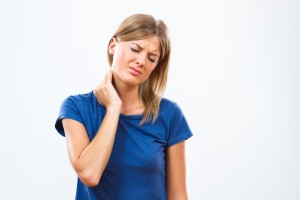 Whiplash is a common injury if you've been in a car accident. Let's say you were in a frontal collision. In this case, your car stops abruptly but your body—including your head and neck—continues to move forward in the direction the car was traveling and is then whipped back, only stopping upon contact with the headrest. When this happens, ligaments and muscles in your neck and shoulders are strained. Consequently, movement is restricted so exercise is generally discouraged initially, but can gradually be resumed as your neck begins to heal. Read on to learn more about whiplash and how best to care for yourself.
Symptoms of Whiplash
The most notable symptoms of whiplash are neck pain and stiffness that may worsen for the first few days after your accident. Turning your head from side to side or looking up and down may be uncomfortable or painful. You may also experience headaches, dizziness and fatigue.
Recovery from Whiplash
Immediately after your accident, rest is extremely important. Pain is usually most notable for the first few days after injury and then begins to subside. Along with rest, ice and heat therapy can be comforting, as well as over-the-counter pain medication.
Your chiropractor may also be able to recommend various forms of treatment that can help recovery. Chiropractic adjustment, rehabilitation and rehabilitation may be used to relieve pain and restore your full range of comfortable neck and shoulder movement.
How to Exercise with Whiplash
As mentioned above, you should not exercise for the first 24 to 48 hours after incurring a whiplash injury. But as your neck begins to heal, you can slowly add back activities that necessitate moving your neck from side to side or up and down. As you heal from the injury, the pain and discomfort will decrease so you'll know that you can begin to increase the intensity of your exercises.
However, you may want to avoid exercise or sports that could put you in danger of reinjuring your neck. Contact sports or high-impact exercise routines are not recommended. Instead, stick with low-impact exercise such as walking, yoga or dancing until your neck has healed completely.
Exercises to Do with Whiplash
The following are some exercises that can improve your range of motion after whiplash. Be sure to move only as far you can without pain. Recommended exercises include:
Chin Tuck
Neck Flexion
Neck Extension
Side Bend
Isometric
Your chiropractor can also help with pain relieving exercises, whether you were just in a car accident or are a few weeks away.
Meet the Doctor
Dr. Zinovy Chukhman is a Dallas chiropractor that specializes in treatment that helps patients recover from auto accident injuries. Call the office today to schedule an appointment.
Comments Off

on Can I Exercise if I Have Whiplash?
No Comments
No comments yet.
RSS feed for comments on this post.
Sorry, the comment form is closed at this time.