July 24, 2017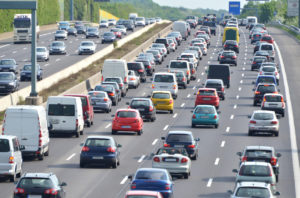 On Friday, April 21, 2017, NBCDFW.com reported on an accident at the intersection of West Mockingbird Lane and Lemmon Avenue. Several cars and a tractor-trailer were involved. In addition to the collision among the vehicles, a light pole was knocked down as a result of the accident and landed on other cars. Fortunately, there were no serious injuries reported at the time of the incident. Unfortunately, this is not always the case when a semi-truck is involved in a vehicular accident. These types of collisions can result in serious injuries that are painful or sometimes even fatal. Your Dallas chiropractor, Dr. Zinovy Chukhman, is here to help you recover from any type of auto accident. But even better than that, he would like to help you avoid a collision with a semi-truck. Read on to learn about some safe driving tips that you can use on the road.
Avoid an Accident with a Semi-Truck
Pick any highway in Dallas at anytime of day and you are bound to see tractor-trailers on the road. These 18-wheelers are vital to the economy because they transport millions of tons of freight across the country every year. On the downside, they can also pose a serious risk of injury to automobile drivers and passengers; one semi- can weigh 20 to 30 times as much as a car. Therefore, your health and safety—even your life—can depend on knowing how to share the road with trucks. Here's some advice from Dr. Chukhman.
Stay out of a truck's blind spot. A semi-truck has a much larger blind spot than a car. Avoid driving alongside a truck and directly behind or in front of it. Maybe you've seen a sign on the back of a semi- that says, "If you can't see my mirrors, I can't see you!" Spend as little time in the blind spot as possible and move to where you can see the truck's side mirrors.
Give trucks plenty of room. A tractor-trailer requires much more road distance to stop than a passenger vehicle. Make sure you have enough clearance when moving in front of a truck that you've passed.
Don't pass a truck that is turning. Because of their size, trucks make wide turns. You're more likely to be involved in an accident with a truck if you try to pass a turning truck.
Follow the rules of the road. Don't drive too fast and always pass on the left.
Injuries from Truck Crashes
A driver or passenger involved in an accident with a truck may suffer serious injuries including soft tissue injuries, broken bones, traumatic brain injury and spinal cord injuries. In conjunction with the necessary medical treatment, your chiropractor in Dallas can provide care to alleviate pain and discomfort. Treatment may include chiropractic adjustment, rehabilitation and spinal decompression.
Contact Our Office Today
If you've been involved in an auto accident, don't wait to see your chiropractor in Dallas. Call Align Right Injury & Rehab today.
Comments Off

on Your Dallas Chiropractor Discusses Semi-Truck Accidents
No Comments
No comments yet.
RSS feed for comments on this post.
Sorry, the comment form is closed at this time.