July 14, 2017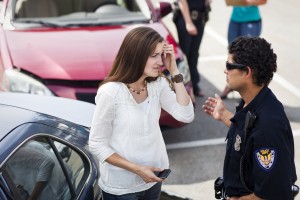 On May 11, 2017, the Dallas Morning News reported that a Dallas police officer was involved in a vehicle accident. The officer was turning left from Miller Road to Plano Road when a 19-year-old man driving a sedan crashed into his squad car. According to the report, the sedan driver was treated at the scene and released, and the police officer suffered minor injuries when his airbag deployed. Dallas chiropractor Dr. Zinovy Chukhman has helped many patients in similar accidents. Read on to find out what Dr. Z can do to help and how you can avoid such injuries.
Car Accident Injuries
After any type of car accident, you may be susceptible to a number of different injuries that present lingering symptoms including:
Lower back injuries
Spine injuries
Head and neck injuries
Whiplash injuries
Car Accident Treatment from Your Dallas Chiropractor
Align Right Injury & Rehab can create a comprehensive chiropractic care program for you that will help reduce or even eliminate pain from injuries you may have sustained in a car accident. In addition, your treatment will restore ease of movement. The chiropractic modalities that Dr. Z may recommend for you are:
Chiropractic adjustment
Rehabilitation
Spinal decompression
Regardless of where you are feeling pain or discomfort, Dr. Z will be able to treat the injury in order to provide relief.
Avoiding Injury from Airbag Deployment
According to a report on the website Medscape.com, airbags and the shoulder-lap belt work together in order to minimize body contact with the interior of the vehicle. They also help to evenly distribute the force of the crash across the occupant's body. Nevertheless, a number of health problems can result from airbag deployment. These range from eye, nose and throat irritation (resulting from dust or powder that is released when an airbag inflates) as well as abrasions or burns from the rapid and forceful deployment of the airbag.
To reduce the frequency and severity of airbag injuries, the National Highway Traffic Safety Administration suggests taking the following steps before entering the vehicle:
Adjust the driver's seat to maintain a 10-inch safety zone between the driver and the airbag
Always use your safety belt
Front seat passengers should not use the dashboard as a footrest
Children under the age of 12 as well as infants in rear-facing car seats should not be in the front passenger seat
Contact Our Office Today
The sooner you seek care from you chiropractor in Dallas after a car accident, the better. Call Align Right Injury & Rehab in Richardson to schedule your consultation today.
Comments Off

on Dallas Chiropractor Offers Injury Avoidance Advice
No Comments
No comments yet.
RSS feed for comments on this post.
Sorry, the comment form is closed at this time.