January 16, 2017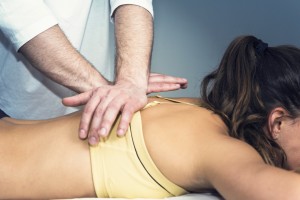 Got pain? Then you need pain management in Dallas. Dr. Zinovy Chukhman and his team at AlignRight Injury & Rehab offer a number of chiropractic methods as well as related services to get you out of pain. As a chiropractor, Dr. Z adheres to the belief that the structure of your body—especially your spine—impacts the function and performance of every individual part and system of your body. By correcting alignment, he is able to alleviate pain, improve function and allow the body to heal itself.
Pain Management in Dallas Through Spinal Manipulation
The cornerstone of chiropractic care has long been spinal manipulation. This treatment generally refers to any kind of therapeutic movement of the spine that your North Dallas wellness doctor uses. More specifically, however, spinal manipulation involves using quick yet firm pressure on a joint between two vertebrae. As a result of this pressure, the joint rotates beyond the normal range of motion. At the point of full rotation, you may hear a cracking sound that is thought to be the release of a bubble into the fluid that lubricates the spine. Alternatively, the cracking sound may be the opening of a vacuum in the area of the spine.
To perform spinal manipulation, Dr. Z either directly exerts pressure on the vertebrae or indirectly by rotating your neck or upper body. To make sure that only one spinal joint at a time is manipulated, the rest of the spine is held completely still.
At the beginning of treatment, Dr. Z recommends scheduling two or three appoints each week for spinal manipulation. Treatments last 10 to 20 minutes and you can expect your symptoms to improve in a few weeks.
Research has found that spinal manipulation may not only be helpful for back and neck pain, but other ailments as well. Patients seek chiropractic care for other musculoskeletal pain, migraine headaches, asthma and allergies, carpal tunnel syndrome and fibromyalgia.
Other Services for Pain Management
In addition to spinal manipulation, Dr. Z's chiropractic care also includes a number of other treatments including:
Spinal Decompression
Rehabilitation
Massage Therapy
Nutritional Consultation
Lifestyle Counseling
Dr. Z can also work with your primary care physician, pain expert or any other specialist involved in your treatment.
Call Our Office Today
To learn more about the benefits of chiropractic, or to schedule an appointment with Dr. Z, the North Dallas wellness doctor, contact AlignRight Injury & Rehab.
No Comments »
No comments yet.
RSS feed for comments on this post.
Leave a comment